Le SDA 7200 a été conçu pour offrir la meilleure performance sonore quel que soit le contenu en cours de lecture, que ce soit le dernier film à succès, un événement sportif majeur ou votre musique préférée .

Bien que le SDA- 7200 ait été développé pour compléter les produits JBL Synthesis , il est aussi à l'aise lorsqu'il est connecté à un autre préampli processeur multi-canal avec ou sans système d' EQ externe connecté. Sa conception de haute puissance signifie aussi qu'il a la flexibilité nécessaire pour alimenter les haut-parleurs de la série Synthesis ou pratiquement tout système de haut-parleurs haut de gamme, de ceux encastrés dans le plafond aux modèles les plus grands. Quels que soient les haut-parleurs, le SDA- 7200 offre les performances JBL reconnues depuis près de 75 ans dans la sonorisation de salle de cinéma.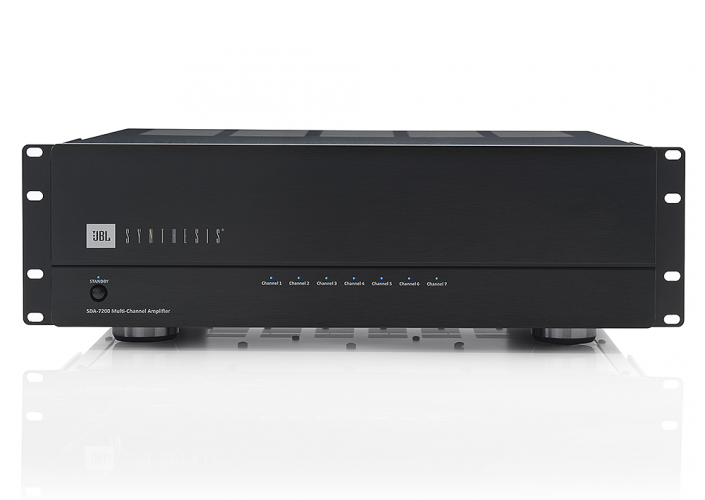 The SDA 7200 has been designed to deliver the best possible sonic performance regardless of the content being played, whether it is the latest blockbuster movie, a major sporting event or your favorite music.
Although the SDA-7200 has been developed to complement JBL Synthesis products it is equally at home when connected to any high-quality multi-channel preamp processor with or without an external EQ system connected. Its high-power design also means that it has the flexibility to power Synthesis speakers or virtually any high-quality speaker system from premier in-ceiling speakers to the largest floor standing models. Of course, regardless of the speakers, the SDA-7200 delivers the performance JBL has been known for in close to 75 years of creating cinema sound.
7-channel Amplifier Delivers 200 Watts Per Channel
The SDA 7200 delivers 200 watts per channel at 8 ohms all channels driven and over 300 watts per channel with 2 channels driven, to create impressive amplification without a large power consumption making the SDA 7200 a more efficient amplifier that does not lack for power.
With its advanced latest generation Class D design, the SDA 7200 provides robust power to drive just about any speaker. Its advanced design represents a new generation of high-performance Class D operation that is able to be simultaneously both efficient and powerful. This energy-efficiency generates less heat than traditional designs. The smaller footprint with greater energy efficiency makes the SDA 7200 ideal for rack installation or an equipment cabinet.
The SDA 7200 includes RCA inputs and high-quality binding post outputs and has a 12V trigger input and signal-sensing auto-power on.
The SDA 7200 complements any décor. It has an elegant, understated appearance with a black brushed-aluminum front panel accented by rounded corners and blue LED status indicators. It comes with both rack mounts or may be installed without in a more traditional audio cabinet.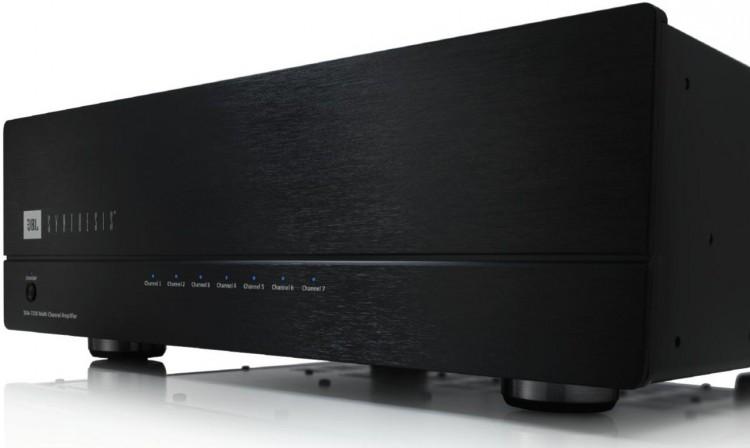 Latest generation, Harman-developed digital amplifier design

High efficiency and dual-speed fans for cool, quiet operation

Short-circuit and thermal protection circuitry

Music sense circuitry and low voltage trigger connection for automatic turn-on

Front-panel LED indicators for individual channel status

Binding post terminals accommodate large gauge speaker cable

Removable IEC power cord
Détails techniques
Unit Dimensions (W x D x H) : 438 mm x 413 mm (with Connectors) x 152 or 133 (without Feet)
Shipping Dimensions (W x D x H) : 20.5 x 24.125 x 11.5 (522 mm x 613 mm x 288 mm)
Unit Weight : 26.5 lbs (12 kgs)
Shipping Weight : 33 lbs (15 kgs)