Le préampli home-cinéma McIntosh MX122 est un modèle 11.2 équipé d'une connectique HDMI 2.0, compatible Dolby Atmos, DTS:X et Auro 3D. Ce préampli est également taillé pour le streaming, avec sa compatibilité AirPlay, Bluetooth, Spotify, DLNA et iPhone. Il dispose en outre d'un système d'autocalibration Audyssey MultEQ et d'un égaliseur à neuf bandes.

À l'image des autres électroniques de la gamme américaine, le préampli et décodeur home-cinéma McIntosh MX122 intègre des composants fabriqués sur mesure. Le préampli McIntosh MX122 est équipé de DAC audio capables de prendre en charge les formats audio les plus récents, tels que le DTS-HD Master Audio ou le Dolby TrueHD et même d'appliquer un matriçage Dolby Pro Logic IIx à un flux stéréo ou multicanal afin de le reproduire sur sept canaux. Les nouveaux formats Dolby Atmos et DTS:X sont également gérés, jusqu'au format 7.4.2.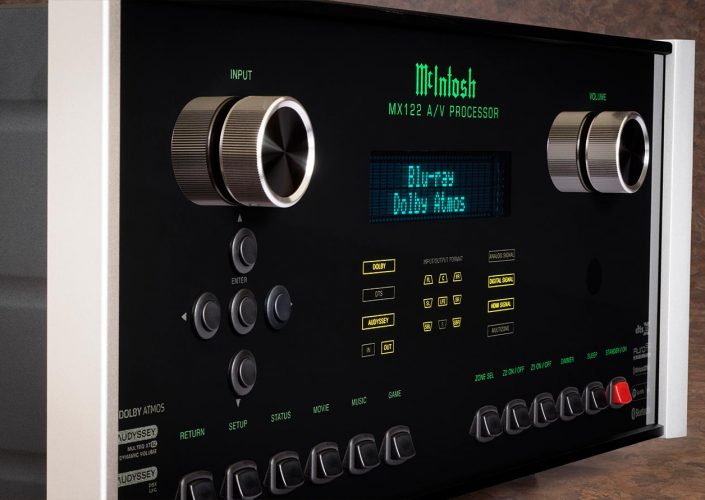 Les formats audio stéréo MP3, WAV ou FLAC sont eux pris en charge par le biais du réseau domestique. Dans ce cas, il est nécessaire d'installer sur le ou les ordinateurs ou NAS partageant les musiques, un serveur UPnP/DLNA. Le McIntosh MX122 peut alors accéder facilement et sans aucune perte aux musiques partagées. La réception des radios web est également prévue. A noter : le port USB est compatible avec les iPod, iPhone et iPad, dont il peut lire les musiques.
Le préampli home-cinéma McIntosh MX122 est compatible avec tous les amplis de puissance McIntosh, afin de constituer un système audio hors du commun.
The MX122 A/V Processor can serve as the brain center for an advanced home theater system for years to come. It features many of the latest breakthroughs in surround sound and object-based 3D audio such as Dolby® Atmos, and will be upgradable to support DTS:X™ and Auro-3D®. Besides 3D audio, existing formats like Dolby TrueHD, DTS-HD Master Audio™ and others still work so you can keep enjoying your existing movie collection. Regardless the format, all audio will be processed to legendary McIntosh sound quality and performance standards. The MX122 is also fully compatible with modern 4K Ultra HD video sources and can upscale lower resolutions to 4K Ultra HD for the best possible picture quality.
The enjoyment the MX122 delivers does not have to be confined to just one room; you can create 2 additional zones in your house and have the MX122 send select audio and/or video to them. A wide assortment of inputs and outputs will let you connect your current and future entertainment sources. Inputs include 7 HDMI, 4 digital audio, 1 balanced and 8 unbalanced analog stereo, an unbalanced 7.1 multi-channel audio, 3 component and 4 composite video along with 1 USB for iPod. Outputs include both balanced and unbalanced connections configured for 11.2 (also referred to as 7.2.4) surround sound, 3 HDMI (1 dedicated for "zone 2"), 2 component and 2 composite video (1 of each for "zone 2") and 2 unbalanced stereo (1 for "zone 2" and 1 for "zone 3"). All HDMI inputs and outputs are HDCP 2.2 and support High Dynamic Range (HDR), 4K Ultra HD at 50/60Hz, 4:4:4 color, Rec. 2020 and 3D video pass-through.
Besides enjoying your favorite movies and TV shows, the MX122 is also great for listening to analog or digital 2-channel music in either stereo or upconverted to surround sound and is compatible with a variety of high resolution digital music formats up to 24-bit/192kHz. You can connect to your cloud-based or online digital music with either the wired or wireless network connections. DSD64 files can be played from flash drives or over your network. Bluetooth and AirPlay® connectivity allows for easy streaming from your mobile devices. Interfaces to popular streaming services1 including Pandora®, SiriusXM® and Spotify® are included while vTuner lets you connect to 1,000s of internet radio stations – including McIntosh Music. Audyssey MultEQ® XT32 will calibrate the MX122 to your home theater's unique acoustical properties, letting it deliver the clearest and most balanced – yet still earth shattering – sound possible. Each audio channel has its own 32-bit premium DAC for the best audio performance. A 9 band equalizer offers additional fine-tuning.
The MX122 features classic McIntosh design cues and can be paired with a variety of McIntosh amplifiers and speakers to make a complete cinematic surround sound system in the comfort of your home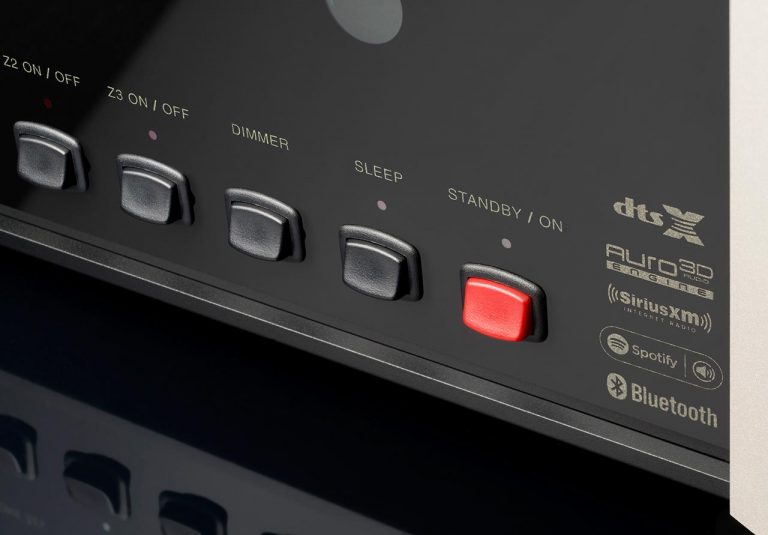 Caractéristique
Préampli home-cinéma 11.2 canaux
HDMI 2.0 HDCP 2.2 4K ARC
Upscaling 4K
Compatible Dolby Atmos, DTS:X, DTS HD Master & High Res. Audio/ES/96/24, Discrete & Matrix 6.1/Neo:6/Express/Neural, Dolby True HD/Digital Plus&EX/Pro Logic IIz, IIx
Autocalibration Audyssey MultEQ XT, Dynamic EQ / Dynamic Volume, DSX
Bluetooth
AirPlay, DLNA 1.5, Spotify, Radios web
Made for iPhone, iPod et iPad (recharge écran éteint)
3 zones audio
Connectique
7x entrées HDMI et 3x sorties dont une ARC
3x entrées composantes et 2x sorties
4x entrées composites et 2x sorties
1x entrée pour micro de calibration
2x sorties RCA LFE
1x jeu d'entrées 7.1 RCA
2x jeux de sorties 11.2 RCA et XLR
1x entrée ligne stéréo XLR
7x entrées stéréo RCA et 2x sorties stéréo RCA zones 2 et 3
2x entrées S/PDIF coaxiales RCA
2x entrées S/PDIF optiques Toslink
1x prise RJ-45
1x port USB 5V 1A
2x connecteurs trigger 12 V
1x entrée et 1x sortie data mini-jack
1x prise RS-232 mini-jack
1x prise de terre
Détails techniques
Dimensions (lxhxp) : 444 x 193 x 495 mm
Poids : 14 kg
Dolby is a registered trademark of Dolby Laboratories.
Auro-3D is a registered trademark of Auro Technologies.
For DTS patents, see http://patents.dts.com. Manufactured under license from DTS Licensing Limited. DTS, the Symbol, & DTS and the Symbol together are registered trademarks, and DTS:X and the DTSX logo are trademarks of DTS, Inc. © DTS, Inc. All Rights Reserved.
RoomPerfect is a registered trademark of Lyngdorf Audio A/S.