Pour offrir une performance sonore exceptionnelle dans les meilleurs home cinéma et systèmes de musique , les modèles de la gamme JBL® Projet ArrayTM utilisent des technologies directement dérivées de l'enceinte highend de la série K2® et des drivers professionnels issus de la technologie Jbl développée pour les studios d'enregistrement.

La gamme Project Array comprend les enceintes colonnes 1400 Array, 1000 Array, une enceinte bibliothèque 800 Array, une enceinte centrale 880 Array, et un caisson de basse 1500 Array avec son amplificateur intégré de 1000 watts .

Les enceintes colonne de la série JBL Project Array utilisent des transducteurs avancés Aquaplas-traité pour les hautes fréquences et des tweeters hyperfréquences en titane dans une trompe autoportante extrêmement dense et rigide. Le look non conventionnel de l'ensemble de la trompe produit un son tout aussi peu conventionnel: des pics propres gérés avec brio jusqu'à 40kHz - livrés directement aux oreilles de l'auditeur. Couplé à un médium à haute fréquence à chambre de compression dans la tradition séculaire JBL Professionnel, le Jbl Project Array apporte un nouveau niveau de précision dimensionnelle, un réalisme sonore et dynamique pour lesquels JBL est justement célèbre.

L'enceinte bibliothèque Array 800 possède des nouvelles caractéristiques avec une trompe Bi-Radial® dans une configuration autonome. Cette conception élimine les effets de diffraction de l'enceinte pour fournir des images précises , ultra-stables , avec une scène sonore plus large , plus profonde et en trois dimensions .
To deliver extraordinary sonic performance in the finest home theater and music systems, JBL® Project ArrayTM models utilize technologies directly derived from the company's flagship K2® Series loudspeakers and professional recording studio monitors.
Project Array models include the 1400 Array, 1000 Array and 800 Array floorstanding and bookshelf loudspeakers; the 880 Array center channel loudspeaker; and the 1500 Array powered subwoofer with built-in 1000-watt amplifier.
To achieve its superlative performance, the 800 Array loudspeaker features newly designed Bi-Radial®-horn compression drivers mounted vertically in a freestanding configuration. This design eliminates enclosure diffraction effects to provide precise, ultra-stable imaging, along with a wider, deeper, more three-dimensional soundstage.
Available in Gloss Wood Grain Finish.
AWARDS & REVIEWS
2010 Review by Larry Greenhill, Stereophile (May 2010 Issue Cover Feature)
2010 JBL Project Array System Review by Scott Wilkinson, HomeTheater.com
2009 Review by HomeTheaterReview.com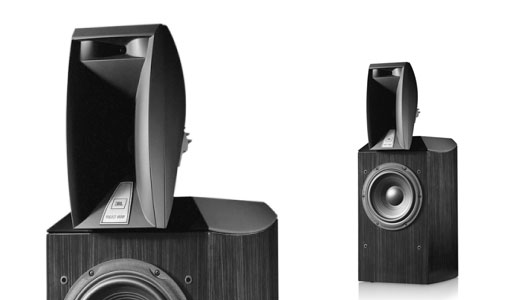 DESCRIPTION 3-Way, 8″ (20.3 cm) Bookshelf Speaker
FREQUENCY RESPONSE 55Hz – 40kHz
POWER HANDLING 200 Watts
SENSITIVITY (2.83V @ 1M) 88dB
NOMINAL IMPEDANCE 8 Ohms
CROSSOVER FREQUENCIES (HZ) 1000Hz, 8kHz
ULTRAHIGH-FREQUENCY DRIVE COMPONENTS 1″ (2.5 cm) Puretitanium Diaphragm Compression Driver
HIGH-FREQUENCY DRIVE COMPONENTS 1.8″ (4.6 cm) Aqua-Plascoated Aluminum Diaphragm Compression Driver
LOW-FREQUENCY DRIVE COMPONENTS 8″ (20.3 cm) Coated Pulp-cone Woofer with 1.5" (3.8 cm) Copper Edge-wound Voice Coil
Détails techniques
HEIGHT 29.3″ (74.3 cm)
WIDTH 10.8″ (27.3 cm)
DEPTH 14″ (35.6 cm)
WEIGHT 40 lb (18.1 kg)
FINISHES Black High-gloss Woodgrain