LE PARTENARIAT DE LA REUSSITE

Du partenariat entre JBL Synthesis et Trinnov (partenariat franco-américain) pour le développement d'un nouveau processeur home cinéma semi professionnel est né le très réussi préampli/processeur SDP- 75. Avec plus de 60 ans d'expérience audiophile, JBL est devenu le choix privilégié des meilleurs professionnels de l'industrie, aussi bien du cinéma que de la musique. Ce partenariat a permis à JBL de créer certains des produits les plus influents utilisés aujourd'hui.

De son coté, Trinnov Audio apporte ses années d'expérience dans la construction de processeurs à de nombreuses applications grand public et commerciales. Son équipe d'ingénieurs et de professionnels passionnés contribue à apporter des solutions innovantes pour améliorer la qualité du son.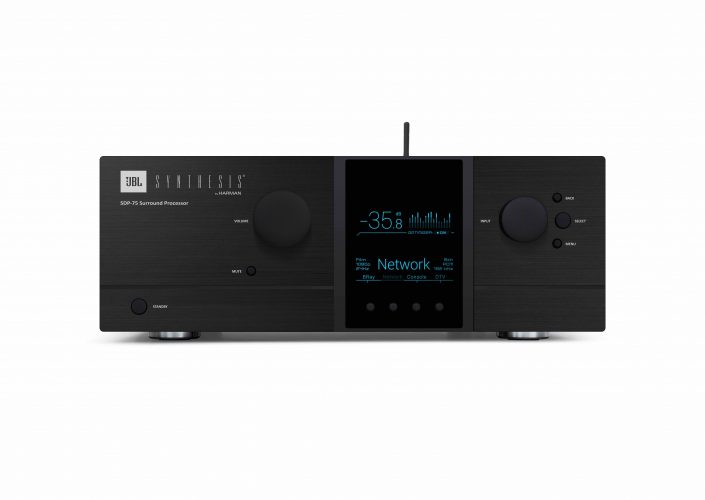 Partnership for Success:
A partnership between JBL Synthesis and Trinnov in the development of the SDP-75 processor has laid the stage for the success of the SDP-75. With over 60+ years of audio experience JBL has become the choice of almost all top music and movie professionals in the industry. This experience has allowed JBL to release some of the most influential products being used today.
Trinnov Audio brings years of experience building top of the line processors for numerous consumer and commercial applications. Their team of passionate audio engineers and professionals helps bring to life innovative solutions that are always improving the quality of sound.
32 or 16 Channel Digital Audio Processor / Universal Spatial-Accurate 3D Audio playback / 118 Digital and Analog Inputs and 80 audio Outputs / 8x HDMI Input, 2x HDMI Outputs / User-friendly, self-explanatory user interface / Built-in WiFi & UPnP/DLNA Compliant Digital Media Renderer / Wide choice of Remote Options.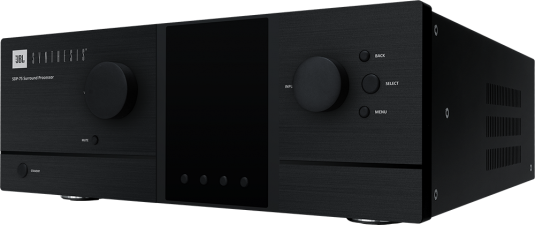 IN 25 SOURCE PREAMP
8x 3D Ready HDMI 1.4b compliant
3x RCA stereo
1x 16 AES channels on DB25
2x XLR stereo
4x S/PDIF coaxial on RCA
1x RCA 7.1
4x S/PDIF optical on TosLink
1x 3D Microphone Input
2x AES/EBU on XLR
OUT UP TO 32 SIMULTANEOUS OUTPUTS
2x HDMI outputs
32x Balanced on 4x DB25
16x AES channels on DB25
16x Balanced on 16x XLR
1x AES/EBU on XLR
1x RCA stereo
1x S/PDIF coaxial + 1x S/PDIF optical
1 AML extension link
*16 Channel Variant also available
Détails techniques
3.5 U Rack : H: 155mm / W: 430mm / D: 405 mm
Weight : 14kg Power consumption: 90 W max.