Le conditionneur secteur McIntosh MPC1500 est équipé d'un énorme transformateur torique afin de filtrer le courant secteur à destination des appareils électroniques. Cet appareil a vocation à protéger les appareils audio-vidéo des interférences et des surtensions mais aussi de leur fournir un courant propre et stable, gage d'un son et d'une image d'excellente qualité.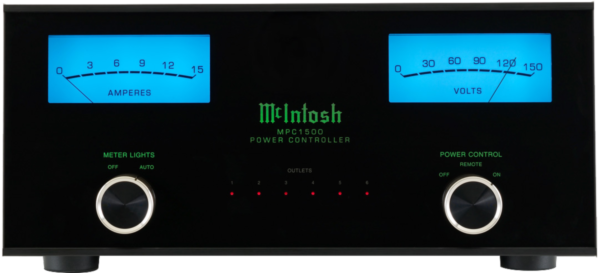 Today's AC power is littered with byproduct from the operation of millions of personal computers, satellite set-top boxes and myriad other noise inducing devices. The new MPC1500 Power Controller provides total isolation, low noise, and maximum power transfer to enable the best performance possible from your McIntosh components. The MPC1500 features a large torroidal transformer that has been specially wound to act as a low pass filter to remove unwanted harmonic noise on the incoming AC line, while a quick-acting surge suppression circuit features a clamping voltage onset of about 2V above peak nominal voltage for the best possible product protection.
Note : le visuel de la face arrière de l'appareil présente des prises américaines, mais c'est bien la version européenne qui est proposée.
SPECIFICATIONS
Capacité courant : 12 A
Puissance max. : 1440 W
Connectique
6x entrées et 6x sorties secteur au format Shuko
6x entrées et 6x sorties trigger
Détails techniques
Dimensions (lxhxp) : 444 x 239 x 558 mm
Poids : 42,2 kg
Product Literature : MPC1500