Amplificateur De Puissance
Sonance Landscape DSP 2-750
Award-Winning Audio Philosophy Outdoors
Tweet
Les Haut-parleurs extérieur Sonance Landscape

La série Landscape permet à Sonance de continue sa philosophie de système audio en plein air déjà primé de nombreuse fois , avec une gamme de produits "outdoor" qui sont conçus pour offrir les meilleures performances d'exception et à l'esthétique la mieux adaptée pour tous les environnements extérieurs . Pour une cour, un patios aux jardins entiers les complexe , Sonance est le leader incontesté dans le son haute fidélité pour le grand air .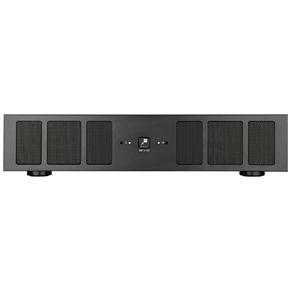 Sonance Outdoor Speakers
Sonance continues its award-winning audio philosophy outdoors, with a range of all-weather products that are designed to deliver best-in-class performance and best looking aesthetics in every exterior environment. From courtyards and patios to entire residential estates or resort gardens, Sonance is the undisputed leader in high fidelity sound for the great outdoors.
Un son incroyable dans tout environnement
La nouvelle ligne d'amplificateurs DSP fonctionnalité SONARC (Sonance Chambre Correction avancée), qui offre des centaines de préréglages EQ conçus spécifiquement pour les haut-parleurs Sonance disponibles. Dans les menus déroulants simples, les pré-réglages DSP permettent un ajustement sans effort et sans besoin de matériel supplémentaire, de logiciel, et plus important de partent de temps. En outre, s'il était nécessaire d'avoir une personnalisation plus poussée, SONARC fournit un égaliseur paramétrique 10-bande pour optimiser les performances sonores de n'importe quel espace.
Prêt pour l'avenir de l'audio haute résolution
Au cœur de chaque amplificateur DSP dispose d'un puissant processeur 24 bits / 96K DAC, capable de gérer une pleine 4608 Kbps de données audio. La plupart des amplificateurs ont des limites de traitement qui limitent la sortie audio, et de limiter le montant maximal, de fournir l'information en 1411 Kbps qui compromet la qualité de l'écoute. La nouvelle ligne d'amplificateurs Sonamp DSP permet aux auditeurs d'apprécier la clarté complète et l'ensemble des sorties passe à travers, du MP3 à pleine High Resolution audio. L'amplificateurs Sonamp DSP préparer votre système audio pour la suite.
Amazing audio in any environment
The new line of DSP amplifiers feature SONARC (Sonance Advanced Room Correction), which offers hundreds of EQ presets designed specifically for Sonance speakers available through simple pull down menus. The presets enable effortless DSP without the need for additional hardware, software, and more importantly time. Additionally, should there be a need for further customization, SONARC provides a 10-band parametric EQ to optimize sonic performance in any space.
Ready for the future of high-resolution audio
At the core of every DSP amplifier is a powerful 24 bit/96K DAC, capable of handling a full 4608 Kbps of audio data. Most amplifiers have processing limitations that constrain the audio output, and limit the maximum amount of pass through information to 1411 Kbps which compromises the quality of the listening experience.The new line of Sonamp DSP amplifiers enables listeners to enjoy the full clarity and output of whatever audio passes through, from MP3 to full High Resolution Audio. Sonamp DSP amplifiers prepare your audio system for what's next.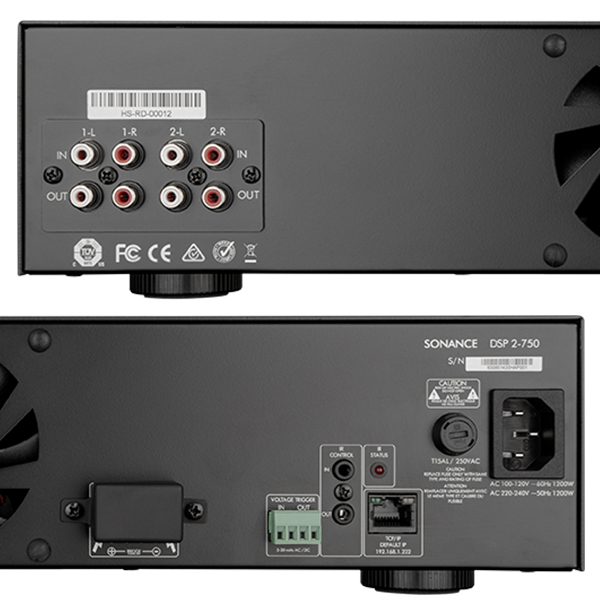 Number of Channels : 2 (1 stereo pair)
Output Power – 8 ohms : 500 Watts RMS per channel (all channels driven)
Output Power – 4 ohms : 750 Watts RMS per channel (all channels driven)
Output Power – 70 Volts : 750 Watts RMS per channel (all channels driven)
Output Power – 8 ohms (Bridged) : 2000 Watts
Frequency Response : 5Hz – 50kHz
Operating Voltage : 100 – 12V@60Hz, 220 – 240V@50Hz
Rack Space Requirement : 2U Rack Width