Les Haut-parleurs extérieur Sonance Landscape

La série Landscape permet à Sonance de continue sa philosophie de système audio en plein air déjà primé de nombreuse fois , avec une gamme de produits "outdoor" qui sont conçus pour offrir les meilleures performances d'exception et à l'esthétique la mieux adaptée pour tous les environnements extérieurs . Pour une cour, un patios aux jardins entiers les complexe , Sonance est le leader incontesté dans le son haute fidélité pour le grand air .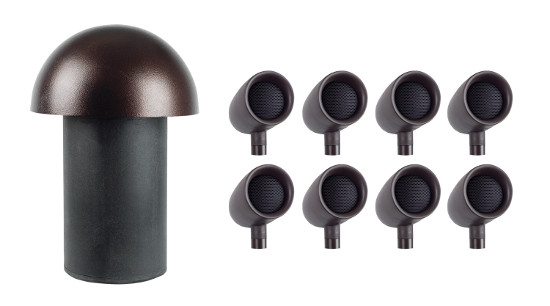 Sonance Outdoor Speakers
Developed using the same principals of Sonance Landscape Series the highly acclaimed SONARRAY SR1 System features eight satellite speakers and a below-ground subwoofer that is designed to fill areas of up to 2000 square feet (180 sqm) with a perfectly even blanket of high quality sound. With everything hidden under plants, crystal clear music seemingly emanates from the foliage, creating atmosphere and ambience.
Facile à connecter
Le système SONARRAY SR1 utilise une configuration de câblage extrêmement facile, L'installation est un jeu d'enfant . Une paire de câbles de haut-parleurs stéréo sont connectés à huit haut-parleurs satellites alternant entre gauche / droite . Le subwoofer est alors connecté à deux paires . Les câbles sont ensuite connectés à un récepteur AV ou amplificateur stéréo standard.
Conçu pour l'extérieur
Le système SONARRAY SR peut résister aux conditions les plus extreme de Mère Nature peut offrir : de -20˚ à 190F ( -29˚ à 88C ) . Sa construction en matériaux composite résistant aux intempéries, à la corrosion et dispose d'enceintes triplement scellé pour assurer de nombreuses années de performances fiables .
Son direct où vous le souhaitez
Le système SONARRAY SR dirige le son où vous le voulez , ce qui minimise son débordement aux propriétés adjacentes . Le résultat est une qualité sonore étonnante au volume parfait, sans déranger les voisins .
Easy to connect
The SONARRAY SR1 system uses an extremely easy wiring configuration to make installation a breeze. A pair of stereo speaker cables are connected to the eight satellite speakers alternating between left / right. The subwoofer is then connected to both pairs. The cables are then connected to a standard AV receiver or stereo amplifier.
Designed for the outdoors
The SONARRAY SR1 system can withstand even the harshest conditions Mother Nature has to offer: from -20˚ to 190˚F (-29˚ to 88˚C). The weatherproof composite construction is corrosion-proof and features triple-sealed enclosures to ensure many years of reliable performance.
Direct sound where you want it
The SONARRAY SR1 system directs the sound where it's wanted, minimizing sound spillover to adjoining properties. The result is amazing sound quality at the perfect volume without disturbing the neighbors.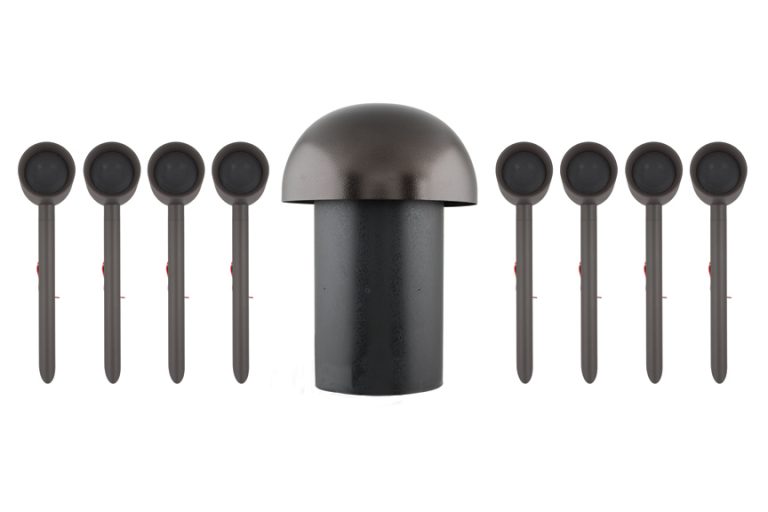 Une qualité parfaite, une couverture parfaite
SONARRAY SR est un système d'enceintes satellite et subwoofer monte la barre sur l'audio extérieure à prix abordable. Le système de SR utilise huit haut-parleurs satellites permet une qualité sonore incroyable et uniforme sur l'ensemble des zones d'écoute, pouvant aller jusqu'à 185m² carrés. SONARRAY apporte un tout nouveau niveau de l'atmosphère et d'ambiance pour les espaces extérieurs.
Apportez sur la Basse
Le SONARRAY SR dispose d'un double caisson de basse 8 « , qui délivre des basses incroyablement propre. Le subwoofer du SR rayonne son son dans la même zone que les 8 haut-parleurs satellites, jumelant même la basse avec une fidélité et une clarté à couper le souffle.
Le but de l'amplification intégré
L'amplificateur SR 2-125  est construit à cet effet pour être le compagnon idéal pour le système satellite et subwoofer SONARRAY SR. Le SR 2-125 est un amplificateur stéréo de 125 watts avec des presets DSP préprogrammés facilement accessibles par l'intermédiaire de cadrants construit à l'arrière de l'amplificateur. Les présélections minimisent le temps passé à tester le système, tout en maximisant la performance dans tous les espace extérieurs.
Perfect quality, perfect coverage
SONARRAY SR1 is a satellite and subwoofer speaker system that raises the bar on affordable outdoor audio. The SR1 system uses eight satellite speakers to deliver amazing sound quality and perfectly even volume levels throughout areas of up to 2000 sqft (185sqm). SONARRAY brings a whole new level of atmosphere and ambience to backyard entertaining.
Bring on the Bass
The SONARRAY SR1 features an 8″ dual voice coil subwoofer, which delivers incredibly smooth bass. The SR1's subwoofer radiates sound throughout the same area as the eight satellite speakers, pairing even bass with breathtaking fidelity and clarity.
Purpose Built Amplification
The SR 2-125 Amplifier is purpose built to be the ideal companion to the SONARRAY SR1 satellite and subwoofer system. The SR 2-125 is a 125-watt stereo amplifier with pre-programmed DSP presets easily accessed through built in dials at the back of the amplifier. These built in presets minimize the time spent tuning and testing the system, while maximizing performance in any hardscape or softscape environment.
Détails techniques
SONARRAY SR1 System
Woofer : 1 x – 8″ (203mm) dual voice coil, polyproylene cone & Santoprene™ surround
Satellite : 8 x – 3 1/2″ (98mm) anodized aluminum cone & Santoprene™ surround
Frequency Response : 40Hz – 20kHz ±3dB
Impedance : 8 ohms per channel nominal
Dispersion : 60º dispersion with an optimum listening area 8′-20′ (2.4-6.1 meters) from the satellites
Power Handling : 50 watts minimum; 150 watts system
Sensitivity : 85dB and 89dB SPL, satellite and subwoofer respectively, 2.83V / 1 meter
Enclosure Material : Satellites – Non-corrosive, high-heat ABS sealed enclosures; Woofer – High density Polyethylene (HDPE) non-corrosive sealed enclosure
Crossover Frequency : 100Hz
Shipping Weight : 57 lbs (26kg) each
Satellite Dimensions : 6 1/2″ L x 4 1/8″ Dia. (165mm x 105mm)
Included Accessories : Eight ground stakes, 24 silicone filled wire nuts
Installation Best Practice : Placement Recommendations: Satellites- 6′-8′ (1.8-2.4 meters) apart along perimeter of listening area. Woofer- The center of the eight satellites. Listening Area: Up to 2000 square feet. Wire Recommendations: 18 gauge up to 100′ (33 meters) 4 conductor, stranded, direct burial 16 gauge up to 150′ (50 meters) 4 conductor, stranded, direct burial 14 gauge up to 250′ (80 meters) 4 conductor, stranded, direct burial 12 gauge up to 600′ (192 meters) 4 conductor, stranded, direct burial Specifications subject to change. Direct burial cable required (sold separately).
Subwoofer Dimensions : 22″ L x 15″ Dia. x (559mm x 381mm)
Pdf : sonarray_brochure
Pdf : sonarray_manual
Pdf : sonarray_amp_and_sr1_sellsheet
Pdf : sonarray_sr_2-125