L'Avenir Du Divertissement En plein Air

Le Patio Theater ™ (SPT) de Stealth acoustic est une solution complète pour le divertissement cinématographique de plein air, combinant un écran LED motorisé format méga-large, ultra-brillant, en 16: 9. Cet écran LED haute résolution avec ses haut-parleurs et son amplification primés Stealth Acoustic crée une expérience audio-visuelle en extérieur unique et performante. Chaque système comprend soit un système audio stéréo soit un système multi-canaux, avec des haut-parleurs et des caissons des basses intégrés dans une impressionnante caisse monolithique de confinement, évidemment résistante aux intempéries.

Spécifiquement conçus pour un mode de vie "outdoor", sans les contraintes des projecteurs faits pour l'intérieur, les systèmes SPT reproduisent de manière fiable des images vibrantes et colorées, même en plein jour. SPT fournit dynamique, pleine gamme, multi-canaux de son surround pour recréer l'expérience cinéma dans votre jardin. Les haut-parleurs de plein air primés StingRay ™, les subwoofers couplés à l'amplification Furtif et le traitement numérique du signal Stealth offrent une reproduction sonore cinématographique réaliste et très immersive.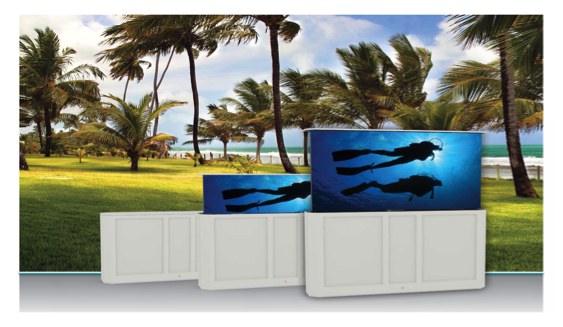 THE FUTURE OF OUTDOOR ENTERTAINMENT
Stealth Patio Theater™ (SPT) is a complete outdoor cinematic entertainment or signage solution combining motorized, mega-large format, ultra-bright, 16:9 format, hi-resolution LED screens with Stealth Acoustics' award-winning speaker and amplifier technologies – all to create a uniquely capable and fun outdoor audio visual experience. Each system includes either stereo or multi-channel speakers and subwoofers built into an impressive monolithic weatherized containment enclosure designed to withstand the elements.
Entertainment lifestyles are moving out-of-doors and unlike repurposed delicate indoor projectors and screens, SPT systems are specifically designed for outdoor use, reliably reproducing vibrant and colorful images even in broad daylight. SPT provides dynamic, full-range, multi-channel surround sound to recreate the movie theater experience in your own backyard. Stealth's award-winning outdoor StingRay™ loudspeakers and subwoofers coupled with Stealth amplification and Digital Signal Processing provide realistic and highly-immersive cinematic sound reproduction.
ENGINEERING IMPRESSIONNANTE
Les écrans LEDS longue durée de SPT sont construits sur mesure en utilisant les dernières technologies de pointe. Les options de l'enceinte peuvent être commandées sur mesure pour correspondre à la décoration extérieure existante ou disparaître dans le paysage. Les ascenseurs motorisés élèvent tranquillement  l'écran hors de son enceinte et le rétractent en toute sécurité pour le stockage.
FLEXIBLE COMPOSANT CONCEPTION
Le système SPT est très flexible. Il intègre un processeur de système de 1080p qui fournit la lecture de médias ( jusqu'à 7 sources) HDMI : disques BluRay ™, des médias tels que NetFlix ™, HULU ™, AppleTV ™, et la plupart des formats de fichiers numériques audio / vidéo. SPT est facilement extensible pour accueillir toutes les sources de contenu AV et est compatible avec tous les principaux systèmes de contrôle.
OPTIONS STANDARDS
SPT est entièrement équipé comme un système clé en main complet, tous les composants nécessaires sont intégrés. Vos sources vidéo  peuvent être branchées immédiatement. SPT est disponible en trois tailles standard: 103 « , 130″ et 155  » de diagonale. Chaque option est disponible avec un 2.1 ou un système audio intégré 5.1.
IMPRESSIVE ENGINEERING
SPT's long lasting LED screens are custom built using the latest in advanced hi-resolution LED technology and control software. The SPT system cabinet enclosure options range from standard above-ground cabinets to specialized subterranean vaults and may be custom ordered to match existing outdoor decor or to disappear into the landscape. World-class motorized lifts quietly raise the screen from its enclosure and retracts safely for storage, adding to system protection, elegance and excitement.
FLEXIBLE COMPONENT DESIGN
The SPT system is highly flexible. Using standard technologies, coupled with Stealth's proprietary designs, SPT incorporates a 1080p system processor which provides selectable media playback from up to 7 different modern HDMI content sources, including; BluRay™ discs, streaming media such as NetFlix™, HULU™, AppleTV™, and most digital audio/video file formats from media and signage players. SPT is easily expandable to accommodate any legacy AV content sources and is compatible with all major control systems.
STANDARD OPTIONS
SPT comes fully equipped as a complete turn-key system, integrated with all the necessary components and ready to plug into your video sources. SPT is offered in three standard sizes: 103″, 130″, and 155″ measured diagonally. Each option is available with either a 2.1 or a 5.1 integrated audio system. (Sizes are shown below)

Source Rack:
Standard 22U rack is available in wall mount or freestanding versions; black powder coated 11-gauge steel with locking solid front door
Screen / Enclosure Control Ports:
(1) contact closure inputs for Screen Up/Dn/Stop control; (1) contact closure for system power on/off
Screen LED Module Qty. / Type:
156 / chroma and luminance matched RGB, SMD common cathode LED (factory optimized and calibrated). 1/32 scan, constant current drive mode.
Pixel Module Size:
7.5″x 3.75″ (191mm x 96mm) Front Service / Magnetic Attachment
Maximum Display Brightness:
>1800cd/m2 (256 levels via factory adjustment)
System Processor AV inputs / resolution:
(6) HDMI 1.4 / 1080p Deep Color – HDCP compliant; (2) Y PB PR (with L/R audio); (1) C-video/S-video (with L/R audio); (1) Balanced L/R audio (XLR); (1) L/R audio; (1) USB (audio)
System Processor AV outputs:
(1) HDMI –HDCP Compliant; (8) Balanced Audio -10/+4 selectable (XLR for 7.1 FL, FR, Center, SL, SR, SBL, SBR, Sub)
System Processor Control Ports:
(1) RS232 (DB9); (1) Ethernet (RJ45)
Screen Processor output:
Proprietary bit-stream on IEC 60603 8P8C RJ45 jack
Max Distance Screen Processor to Screen:
100M minimum using CAT5e or better STP cable
Audio Power Amplification:
450W per channel @ 4Ω (all channels driven)
Operational Temperature:
-50F ~ 120F (-45C ~ 49C)
Built in Speaker Compliment for Enclosure:
L/C/R: (3) total Stealth Acoustics LR3G Full Range Invisible Speakers
Sub: (2) total Stealth Acoustics B30G subwoofer panels
External Surround Sound (5.1 systems only):
SL/SR: (2) total Stealth Acoustics StingRay8 Environmental Speakers
(optional expansion available for 7.1 and additional remote subwoofers)
System Audio Response:
30Hz-18kHz (calibrated +/- 3db)
System Audio Output Level:
103dB SPL Max @1m from screen/speakers
Operational Humidity / Moisture:
10%-90% Humidity / 0% moisture on rain sensor when screen is elevated
Sensor Package: Raise Limit / Inhibit sensor, Rain sensor, Lower Inhibit (capacitance) sensor, Audible Retraction transducer
Voltage:
240VAC 50/60Hz (Screen Enclosure); 115VAC 60Hz (Source Rack)
Amperage:
SPT P3-103 Screen/Enclosure: 40A
SPT P3-130 Screen/Enclosure: 50A
SPT P3-155 Screen/Enclosure: 60A
Source Rack: 20A
Détails techniques
Screen Size:
103″, 130″, 155″ (diagonal measure)
Screen Aspect Ratio:
16:9 (approximate)
Recommended Viewing Distance:
15' – 20′ (minimum)
Screen Viewing Angle (H/V):
1400 / 1200
Screen Colors:
4.4 Trillion
Gray Scale:
18 bit per pixel
Screen Refresh Rate:
>3000 Hz
Screen Operational Lifespan:
>100,000 Hours
Cabinet Enclosure Height (fully retracted):
SPT P3-103: 55.5″ High (140.9cm)
SPT P3-130: 70.75″ High (179.6cm)
SPT P3-155: 80.5″ High (204.4cm)
Screen and Enclosure Height (fully extended):
SPT P3-103: 106″ High (269.5cm)
SPT P3-130: 136.5″ High (346.6cm)
SPT P3-155: 157.5″ High (400.2cm)
Screen and Enclosure Weight (approx.):
SPT P3-103: 800 lbs (363 kg)
SPT P3-130: 1,350 lbs (612 kg)
SPT P3-155: 1,850 lbs (839 kg)
Source Rack Weight:
200 lbs (approx.)