FutureAutomation propose une large gamme de mécanismes/support pour écrans plats et vidéo-projecteurs tels qu'ascenseurs, panneaux coulissants, bras motorisés, systèmes escamotables, etc. Tous les supports de la marque sont conçus et fabriqués en Angleterre ce qui se traduit par une qualité et une finition irréprochables : matériaux solides, esthétiques, fiabilité avec la possibilité d'une fabrication sur-mesure le cas échéant. La motorisation est souple, les mouvements se font sans à-coups, tout en souplesse et silencieusement, traduisant le savoir-faire de l'entreprise.

PD

Le mécanisme Future Automation d'ascenseur pour Projecteur est le leader sur le marché pour les installations home cinéma . Sa hauteur très fonctionnelle est accompagnée d'une large gamme d'options , ce Mécanisme pour Projecteur est recommandé par les principales entreprises audio visuels dans le monde entier. Disponible en trois tailles standard pour s'adapter à la grande majorité des projecteurs home cinéma, il est le mécanisme idéal pour transformer tout espace de vie en home cinéma.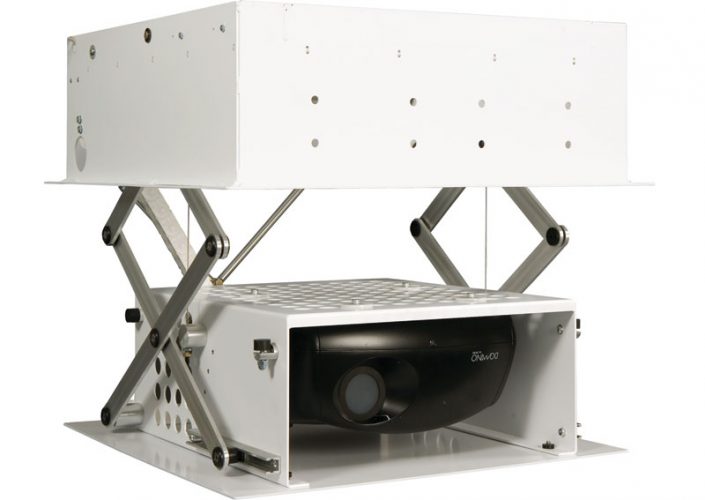 Future Automation offers a comprehensive range of custom built products for discerning customers.
Future Automation has manufactured exceptional television lifts and mounts for the Residential, Marine, Commercial, Hospitality and Outdoor applications since 1998, a customer first business that prides itself on its creativity, passion and excellence. Future Automation are a design led mechanical engineering company that is known for providing the highest quality products across a wide range of applications and industries, our primary focus is supplying technology integrators with solutions to move and conceal televisions, projectors, appliances and other similar equipment for functional and aesthetic purposes.
PD
The Projector Drop lift mechanism is the market leading projector lift for home cinema installations. Superbly height efficient and functional with a range of drop options, the Projector Drop Mechanism is recommended by leading Audio Visual Companies around the world. Coming in three standard sizes to fit the vast majority of home cinema projectors, it is the perfect way to transform any living space into a home cinema.
Ascenseur permettant de dissimuler au plafond un projecteur de taille standard n'excédant pas (Largeur x Longueur x Hauteur) : 400 x 460 x 190mm.
La profondeur d'encastrement nécessaire est de 210 mm
La course d'origine est de 400 mm. En option,il est possible de commander le PD1 avec une course de 700 mm ou 940 mm.
La finition d'origine est en métal blanc ou noir. En option, il est possible de commander une finition RAL spécifique.
Le PD1 est contrôlable en IR (télécommande et récepteur IR fournis), RS232 et Contacts secs via un boîtier de contrôle fourni.
Les systèmes de pantographes développés par Futureautomation permettent d'intégrer la majorité des vidéo projecteurs disponibles sur le marché. Des versions Marine sont disponibles pour les intégrations sur des yatchs. D'une finition remarquable, ces ascenseurs plafond se déclinent en 3 autres modèles : PD2.5, PD3.5 et PDOF.
– Installation facile
– Prise en charge des câbles en toute sécurité lors des mouvements de descente/montée.
– Distance au plafond ajustable sur demande.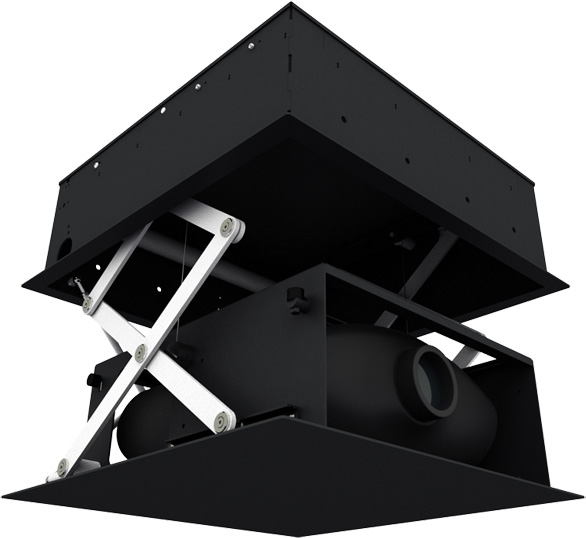 Product Code PD1 PD2.5 PD3.5 PD-CUSTOM
Control Options RS232 / Contact Closure / IR
(RF Available) RS232 / Contact Closure / IR
(RF Available) RS232 / Contact Closure / IR
(RF Available) RS232 / Contact Closure / IR
(RF Available)
Decibel Rating 46dB 46dB 59dB Variable
Depth Within Ceiling 210mm (8.26″) 211mm (8.30″) 261mm (10.27″) Required Height
Finish (Custom Available) Satin White Paint – RAL9910 Satin White Paint – RAL9910 Satin White Paint – RAL9910 Custom Finish
Max Projector Size (WxDxH) 400 x 460 x 190mm
(15.74 x 18.11 x 7.48″) 505 x 560 x 195mm
(19.88 x 22.04 x 7.67″) 560 x 650 x 235mm
(22.04 x 25.59 x 9.25″) Required Projector Size
Max Weight 15kg (33lbs) 15kg (33lbs) 45kg (99lbs) Required Weight
Movement Type Motorised Motorised Motorised Motorised
Power Consumption 110W 110W 110W N/A
Power Supply 240V or 110V 240V or 110V 240V or 110V 240V or 110V
Travel From Ceiling 400mm (15.74″) – Standard
700mm (27.55″) – Available
940mm (37.00″) – Available 400mm (15.74″) – Standard
700mm (27.55″) – Available
940mm (37.00″) – Available 740mm (29.13″) – Standard
1200mm (47.24″) – Available Required Travel
Shipping Information
Shipping Dimensions 74 x 74 x 32cm
(29.13 x 29.13 x 12.59″) 95 x 95 x 35cm
(37.40 x 37.40 x 13.77″) 120 x 100 x 50cm
(47.24 x 39.37 x 19.68″) Variable
Shipping Weight 22kg (49lbs) 32kg (70lbs) 50kg (110lbs) Variable