Le caisson de basses passif S4S encastrable fait partie du système Jbl Synthesis série 4, qui peut sonoriser des pièces jusqu'à 2500m³ avec un plein spectre sonore tout en restant compact. Commencez par des haut-parleurs 3 voies encastrés (un S4HC et deux S4VC 'S ) . Ajoutez deux subwoofers S4S et un amplificateur S820 pour une solution entièrement encastrée et quatre hp surround S4Ai dans les murs latéraux et arrière. Ajouter la puissance JBL d'un préampli/processeur SDP, et un equalizer numérique SDEC et enfin un ampli de puissance SDA.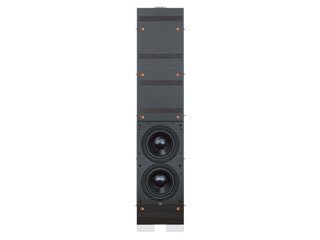 The S4S flush-mount passive subwoofer is part of the Synthesis Four system, offering you a choice of ways to fill 7,500 cubic feet of space with dramatic, full-spectrum sound from compact system components. Begin with three-way, in-wall main loudspeakers (one S4HC and two S4VC's). Back them up with two S4S subwoofers and an S820 amplifier for an all-in-wall solution and four S4Ai in-wall multipole surrounds. Add the power of an SDP-40HD processor/controller, SDEC-3000 digital equalizer and S7165 7-channel amplifier.
A complete S4S loudspeaker system includes the S4S in-wall subwoofer and the S4SBB back box, which must be purchased separately. A high-quality, external two-channel power amplifier, such as the JBL Synthesis S820, is also required, and must be purchased separately.
Détails techniques
Frequency Response (–6dB) : 20Hz – 150Hz (THX®/LFE mode)
Maximum Recommended Amplifier Power : 500 Watts per channel
Impedance : 4 Ohms nominal
Sensitivity : 88dB (2.83V/1m), both woofers driven
Woofer : Dual 10″ polymer-coated aluminum cones w/rubber surrounds 64″ x 14″ x 5.1″ (1626mm x 356mm x 130mm)
Dimensions (H x W x D, mounted in S4SBB enclosure, not including StyrofoamTM blocks) :
15″ x 24.55″ (381mm x 624mm) 24 lb (10.9kg)
Mounting Cutout Size (W x H) : 15″ x 24.55″ (381mm x 624mm)
Weight per Speaker : 24 lb (10.9kg)