Le SDP- 25 est un processeur surround de highend idéalement adapté pour les systèmes à prix modéré, tout en conservant la qualité du son iconique des produits JBL Synthesis. Offrant une polyvalence exceptionnelle et une superbe facilité d'utilisation, le SDP -25 établit un nouveau standard de valeur pour les processeurs surround .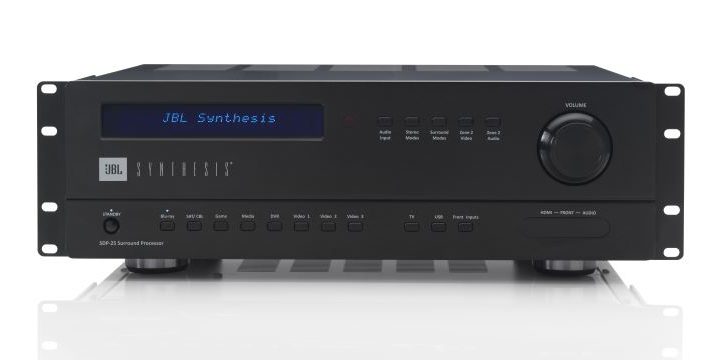 The SDP-25 is a high-quality surround processor that is ideally suited for moderately-priced systems while still maintaining the iconic sound quality that is inherent in every JBL Synthesis product. Offering exceptional versatility and superb ease of use, the SDP-25 sets a new standard of value for surround processors.
Six HDMI Inputs and Two HDMI Outputs
Six HDMI inputs with one on the front panel and two independent HDMI outputs with 4K Ultra HD and 3D plus on-screen HDMI view offering exibility for video switching.
7.1-Channel Surround-Sound Audio Capability with High-Resolution Sound Format Capabilities
With dual subwoofer outputs the SDP-25 is highly-suited to bring a movie soundtrack to life. It also tackles all high-resolution audio formats including Dolby® TrueHD, DTS-HD Master Audio, and other Dolby Digital and DTS Surround Modes. The easy-to-access USB input enables connection to a computer, and the SDP-25's 7.1 Direct and Stereo Direct Modes provide a signal path with minimal audio circuitry for listening to high-resolution analog music sources.
Multiple Inputs
The SDP-25 has a host of inputs including two composite and two component video inputs, seven analog, ve optical, ve coaxial digital audio inputs plus a dedicated 7.1 multichannel input, USB audio input and a front panel 3.5 mm auxiliary audio input.
Ease of Operation
The SDP-25 provides a RS-232 port, IR inputs and outputs, and trigger inputs and outputs to enable interfacing with other JBL Synthesis components, automation and control systems.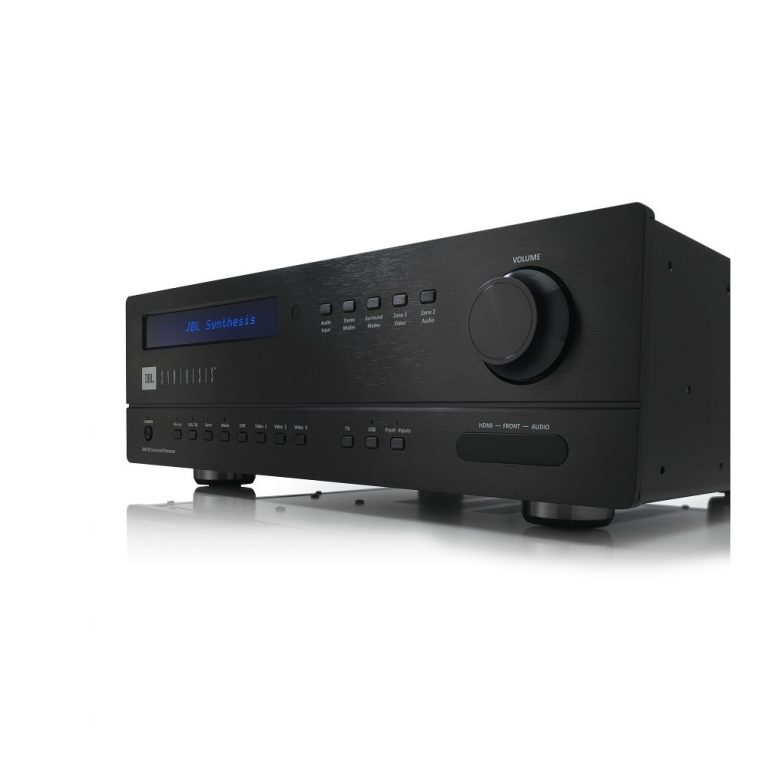 Performance
The SDP-25 provides comprehensive setup and adjustment options for optimum performance in any system either when used with our SDEC Room Equalization system or in stand-alone operation. With included bass-management for all program sources and types of speaker setups, individual level and delay adjustment for each channel, a selection of 7.1-channel and 2-channel and DSP surround-enhancement modes, and many additional features, the SDP-25 comes fully-equipped for various applications. Its black brushed-aluminum front panel complements any custom home entertainment installation.
Détails techniques
Dimensions : 17-5/16" x 15"D (Not including knobs & connectors or rack ears) 5.25"H (Not including rubber feet) / 19"W x 16-9/32"D (Including knobs & Connectors)
Rack Mount : 19"W Standard Rack Mount width 3RU High without rubber feet
Weight : Approx. 19.5 lbs (8.86 kg)
Environmental :50 degree Celsius maximum Relative Humidity: 95% maximum without condensation