A propos de la ligne ENCORE
La ligne de produits Kaleidescape ENCORE est idéale pour les clients qui souhaitent regarder leur films dans la meilleure qualité audio et vidéo disponible provenant du store en ligne Kaleidescape. Désormais pour ceux qui le désirent, le store Kaleidescape propose du contenu 4K Ultra HD ou HDR. Le système Kaleidescape est à ce jour la solution la plus performante pour les grands écrans 4K ou les vidéo projecteurs. Un serveur de disques est disponible afin d'enregistrer votre contenu Blu-ray.

Le server Kaleidescape "Terra" peut stocker jusqu'à 24 To de films sur ses disques durs, et les distribue a l'ensemble des lecteurs de la série "Encore" à travers votre réseau domestique . Le server "Terra" fournit également des services informatiques et de mise en memoire cache qui améliorent la performance des lecteurs Strato et Alto. Et ceci Jusqu'à sept lecteurs Strato peuvent simultanément jouer des films 4K à partir d'un seul serveur Terra ; jusqu'à 15 lecteurs simultanément pour des films en qualité Blu-ray à partir d'un seul serveur Terra.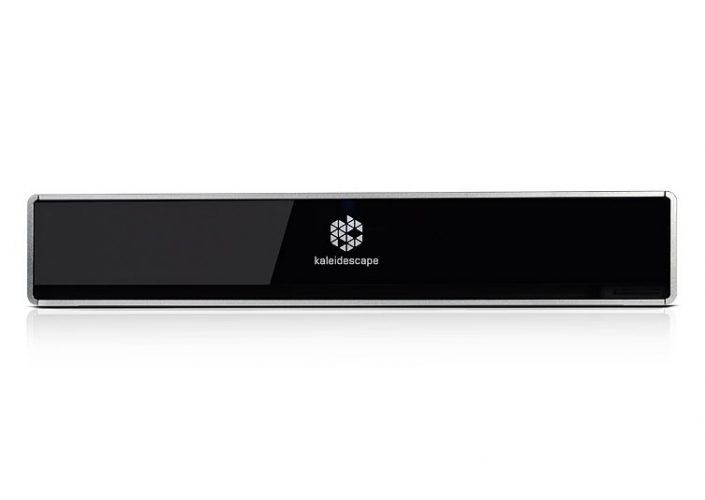 A Kaleidescape Terra stores up to 24 TB of movies on its hard drives, and serves them to Encore players in the home network. Terra also provides computing and caching services that enhance the performance of Strato and Alto players. Up to seven Strato players can simultaneously play 4K movies from a single Terra server; up to 15 players can simultaneously play Blu-ray quality movies from a single Terra server.
Le serveur de film Kaleidescape Terra a été conçu pour stocker des films sur un éventail de disques durs de qualité professionnel, sans compression ni perte de qualité. Vous pouvez ajouter u n server Terra sur tout les systèmes de la série Encore pour stocker des films téléchargés depuis le Movie Store Kaleidescape, et les rendre disponibles sur tous les lecteurs Strato et Alto de votre système . Il améliore également les performances de navigation et la lecture de tous les lecteurs du système et permet une configuration plus large de lecteurs de la série au sein de votre système.
Le server Terra est en mesure de continuer à fonctionner même après une panne du disque dur , et les films qui ont été stockés sur le disque défectueux peut être restauré à partir du nuage , ce qui se produit automatiquement lorsque le disque défectueux est remplacé. Un disque dur défaillant peut être remplacé dans le domaine.
Terra peut simultanément proposer des films sur un réseau résidentiel standard aux lecteurs Strato et Alto partout dans la maison . Une fois qu'un film est téléchargé et stocké sur Terra , il peut être apprécié immédiatement sur tout les lecteurs .
Vous pouvez acheter le server Terra avec deux ou quatre disques durs . Le modèle à deux disques peut être mis à niveau vers trois ou quatre disques en interne.
The Kaleidescape Terra movie server was designed to store movies on an array of enterprise-quality hard drives, without compression or loss of quality. You can add Terra to any Encore system to store movies downloaded from the Kaleidescape Movie Store, and make them available to every Strato and Alto player in the system. It also improves the browsing and playback performance of every player in the system, and makes it possible to configure an Encore system with a large number of players.
Terra is able to continue operating even after a hard drive fails, and the movies that were stored on the failed drive can be restored from the cloud, which happens automatically when the failed drive is replaced. A failed hard drive can be replaced in the eld.
Terra can simultaneously deliver movies over a standard residential network to Strato and Alto players anywhere in the home. Once a movie is downloaded and stored on Terra, it can be enjoyed immediately from any player.
You can purchase Terra with either two or four hard drives. The two-drive model can be upgraded to three or four drives in the eld.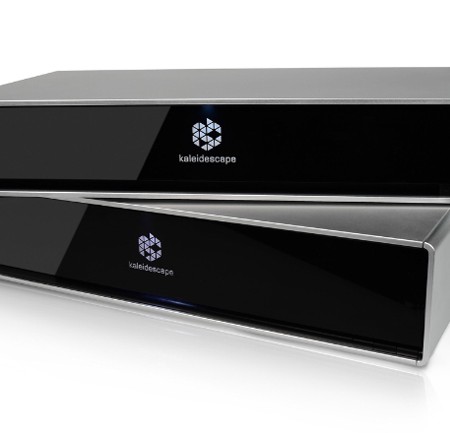 STORAGE
• Available with either two or four 6TB hard drives (12TB or 24TB total)
• 12TB con guration stores up to 200 Ultra HD movies, 400 Blu-ray quality movies, or 1,800 DVD quality movies
• 24TB con guration stores up to 400 Ultra HD movies, 800 Blu-ray quality movies, or 3,600 DVD quality movies
BANDWIDTH
• Serves 4K Ultra HD movies simultaneously to up to seven viewing zones
• Serves Blu-ray movies simultaneously to up to 15 viewing zones
• Serves DVD quality movies simultaneously to up to 50 viewing zones
LIMITED WARRANTY
• 3 years (extendable)
Détails techniques
DIMENSIONS : 17.0in×3.5in×10.0in(W×H×D) (43.2cm × 8.9cm × 25.4cm)
WEIGHT : 15.4lbs(7.0kg)withnoharddrives installed / 21.6lbs(9.8kg)withfourharddrives installed
POWER
Maxconsumption:45W,withfourhard drives installed / ypical: 40W
External power adapter, 100–240V,
50–60Hz universal input @ 1.5A, 80W with detachable line cord
NETWORK
100Base-TX/1000Base-T Ethernet (RJ45 connector)
OTHER CONNECTION
USB3.0(reserved)
ENVIRONMENT
 Operatingtemperature:41to95°F (5 to 35°C)
Storage temperature: -4 to 140°F (-20 to 60°C)
Relative humidity: 5% to 90% non-condensing
Maximum operating altitude: 10,000ft (3,048m)
Heatoutput:154BTU/hr(45W)maxwith four hard drives
Air ow: 15 CFM (25.5 m3/hr) max
VENTILATION
Minimum1in(2.5cm)spaceatthefront • Minimum2in(5cm)spaceattherear
RACK MOUNT
Rackearsavailableformountingina19in rack, 2U space (sold separately)
CERTIFICATIONS
CSA60950-1 • IEC60950-1 • FCCCLASSB • CE
RoHSCompliant