A propos de la ligne ENCORE
La ligne de produits Kaleidescape ENCORE est idéale pour les clients qui souhaitent regarder leur films dans la meilleure qualité audio et vidéo disponible provenant du store en ligne Kaleidescape. Désormais pour ceux qui le désirent, le store Kaleidescape propose du contenu 4K Ultra HD ou HDR. Le système Kaleidescape est à ce jour la solution la plus performante pour les grands écrans 4K ou les vidéo projecteurs. Un serveur de disques est disponible afin d'enregistrer votre contenu Blu-ray.

Le Kaleidescape Alto combine une parfaite qualité de lecture avec la légendaire expérience Kaleidescape . Alto vous donnera accès jusqu'à 11.000 * films et 2.000 saisons * TV à travers l'accès à leur boutique en ligne Kaleidescape, dont la plupart des films sont disponibles en qualité bit pour bit Blu-ray .

Lecteur / Serveur de films ALTO
Le système Alto est équipé d'un lecteur optique, permettant la lecture de vos Blu-ray favoris. Alto est disponible avec ou sans stockage interne (Capacité : 4 ou 6 TB) et permet ainsi d'enregistrer jusqu'à 200 Blu-ray. Le stockage interne permet au système Alto de fonctionner seul, mais peut également être connecté avec d'autres systèmes de la ligne Encore. Equipé ou non de stockage interne, l'Alto permet de lire le contenu via le lecteur optique, via un serveur Terra, un autre Alto, le player Strato équipé de stockage interne, et bien sur via le serveur de disque Kaleidescape.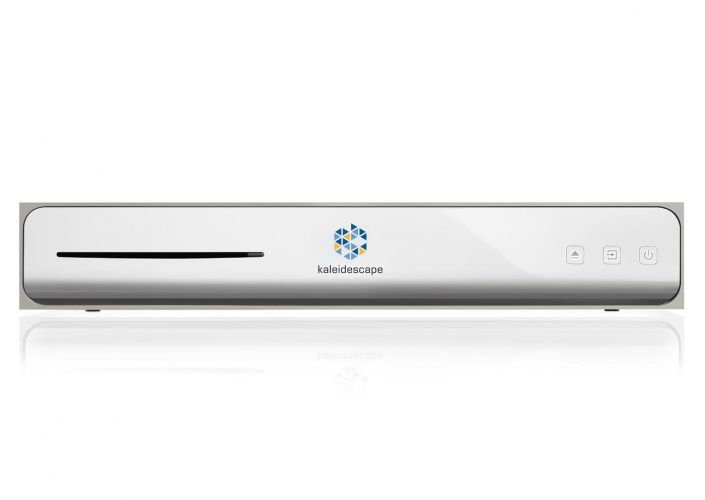 Kaleidescape Alto combines pristine playback quality with the legendary Kaleidescape experience. Alto will give you access to the 11,000* movies and 2,000* TV seasons that Kaleidescape has licensed for the Movie Store, most of which are available in bit-for-bit Blu-ray quality.
Alto also features an optical drive, so you can enjoy your favorite Blu-ray discs and DVDs. It is available with or without an internal 6TB hard drive that can store up to 200 Blu-ray quality movies, or 900 DVD quality movies. Alto equipped with internal movie storage can be used standalone or in a system with other Encore components. The Alto with or without internal storage plays back from its disc slot, a Kaleidescape Terra movie server, another Alto or Strato player with internal storage, or a Kaleidescape Disc Server.
Kaleidescape a conçu le lecteur vidéo Alto pour fournir une expérience home-cinéma immersive, avec qualité audio et vidéo de lecture très proche de celle des salles commerciales.
Contrairement aux services de streaming, chaque film est téléchargé et stocké sur un disque dur, soit sur un serveur de film Kaleidescape Terra, ou un lecteur de film Kaleidescape Alto ou Strato. Alto joue des films téléchargés avec une superbe qualité Blu-ray, à jusqu'à 48 Mbps et 60 images par seconde, sans les retards de démarrage, les messages tampons, ou des chutes de qualité qui sont si communs avec les services de streaming.
Alto supporte un signal bitstream pass-through en Dolby Atmos, Dolby TrueHD et DTS-HD Master Audio pistes sonores multicanaux. L'interface utilisateur à l'écran Alto est affiché en 1080p Full HD jusqu'à 30 images par seconde.
Alto permet aux utilisateurs de convertir un disque physique en un téléchargement numérique, de sorte que le film peut être joué instantanément, sans la nécessité d'utiliser le disque physique. Alto peut également jouer directement à partir d'un disque Blu-ray ou DVD. Les Films commencent immédiatement, sans publicités ou avertissements, et vous pouvez passer directement à vos scènes et chansons préférées, sans avance rapide.
Kaleidescape est seul détaillant de cinéma du monde qui répond au consommateur discriminante avec une gigantesque bibliothèque de contenu à partir de grands studios de mouvement de l'image d'Hollywood. Le Kaleidescape Movie Store propose des milliers de films en pleine qualité Blu-ray avec audio multicanal sans perte, y compris Dolby Atmos.
Kaleidescape designed the Alto movie player to provide an immersive home-cinema experience, with audio and video playback quality very close to that of commercial theaters.
Unlike streaming services, each movie is downloaded and stored on a hard drive, either on a Kaleidescape Terra movie server, or a Kaleidescape Alto or Strato movie player. Alto plays downloaded movies in stunning Blu-ray quality, at up to 48 Mpbs and 60 frames per second, without the startup delays, buffering messages, or quality drops that are so common with streaming services.
Alto supports bitstream pass-through of Dolby Atmos, Dolby TrueHD, and DTS-HD Master Audio multichannel soundtracks. The Alto onscreen user interface is displayed in full 1080p HD at up to 30 frames per second.
Alto lets users convert a physical disc into a digital download, so the movie can be played instantly, without the need for the physical disc. Alto can also play directly from a Blu-ray disc or DVD. Movies start immediately, without trailers or warnings, and you can jump right to your favorite scenes and songs, without fast forwarding.
Kaleidescape is the world's only movie retailer that caters to the discriminating consumer with a massive library of content from Hollywood's major motion-picture studios. The Kaleidescape Movie Store offers thousands of movies in full Blu-ray quality with multichannel lossless audio, including Dolby Atmos.
VIDEO OUTPUT
HDMI®1.4
VIDEO DISPLAY FORMATS
Resolutions: 1080p60/50/24, 1080i60/50, 720p60/50, 576i, 576p, 480i, 480p
Chroma: 4:4:4 8-bit
Color spaces: BT.709 and BT.601 • Aspect ratios: 1.78:1 and 2.35:1
(CinemaScape), automatic or user interface selectable
AUDIO OUTPUTS
HDMI 1.4 (combined with video) • Digital coaxial (RCA connector) • Analog stereo (RCA connectors)
AUDIO FORMATS
• Dolby Atmos
• Dolby TrueHD
• Dolby Digital
• DTS:X
• DTS-HD Master Audio • DTS Digital Surround • PCM
• MPEG audio
STORAGE
Integrated storage for up to 200 Blu-ray quality movies, or 900 DVD quality movies
MEDIA
Kaleidescape Movie Store downloads that precisely match the quality of movies available on Blu-ray disc and DVD
Blu-ray disc, BD-R, BD-RE
DVD, DVD-R, DVD-RW, DVD+R,
DVD+RW
BLU-RAY DISC FEATURES
BD-Live
Pro le 2.0
REGIONAL PLAYBACK CONTROL
The DVD region code of the Kaleidescape Alto can be changed up to four times
The Blu-ray Disc region code of the Kaleidescape Alto is set at time of purchase and cannot be changed by the customer
LIMITED WARRANTY
3 years (extendable)
Détails techniques
DIMENSIONS : 17.0in × 2.8in × 10.0in (W × H × D) (43.2cm × 7.1cm × 25.4cm)
WEIGHT : 10.2lb (4.62kg)
POWER : Max consumption: 60W / Typical: 35W / High power standby: 20W / Low power standby: 0.35W
External power adapter, 100-240VAC
to 12VDC @ 5A, 60W with detachable line cord
NETWORK
100Base-TX/1000Base-T Ethernet (RJ45 connector)
802.11n Wi-Fi USB adapter included
CONTROL
Ethernet control from Crestron, AMX, Control4, Savant, the Kaleidescape App for iPad, and other apps and control systems
Kaleidescape Remote included
Front-panel IR receiver window
IR input (1/8in mini-plug)
ENVIRONMENT
Operating temperature: 41 to 95°F (5 to 35°C)
Storage temperature: -4 to 140°F (-20 to 60°C)
Relative humidity: 20% to 80% (operation) 5% to 90% (storage)
Maximum operating altitude: 10,000ft (3,048m)
Heat output: 136 BTU/hr (40W) max
Air ow: 10 CFM (17 m3/hr) max
VENTILATION
Minimum 1in (2.5cm) space at the front • Minimum 2in (5cm) space at the rear
RACK MOUNT
Middle Atlantic rack shelf is available for mounting in a 19in rack, 2U space
CERTIFICATIONS
CSA 60950-1 • IEC 60950-1 • FCC CLASS B • CE
EAC
RoHS compliant