Enceinte Encastrable Hifi / Cinéma
Triad InWall Silver/4 LCR
The Most beautiful Sound You May Never See
Tweet
L'enceinte InWall Silver/4 LCR est un haut-parleur encastrable complètement clos et conçu spécialement pour l'encastrement. Avec sa profondeur de 10cm, ce haut-parleur reproduit même à niveau élevé l'équivalent de sa version inroom. La Silver InWall/4 offre une qualité exceptionnelle sur les films et la musique .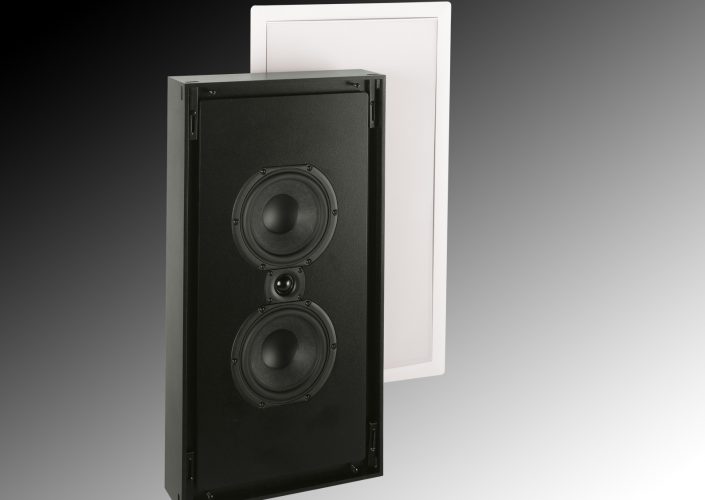 The philosophy of a completely enclosed and fully engineered inwall speaker is epitomized in the InWall Silver/4 LCR. Where only 4″ of wall depth is available, this speaker performs at the same high level as its inroom version. At Triad, we don't believe inwall should mean not as good. With the same driver compliment as the InRoom Silver LCR, the InWall Silver/4 LCR yields a significant increase in sensitivity and power handling for a more effortless home theater experience.
In a high-output speaker, a real cabinet not only ensures predictable results, it offers superior isolation. Conventional open back speakers will bleed into adjacent rooms, and blur the sound in the listening room, as well. When used with Triad Subs and Triad Surrounds, the result is exceptional performance on both music and movies, whether used with a modest A/V receiver, or premium separate components.
Caractéristiques
Design compact plat .
Triad AcoustiPerf grill disponible en trois modèles en métal :
Étroit, large, et Frameless .
Premium MDF .
Suspension acoustique .
conception 2 voies .
Finitions
Les finitions standard ( peinture blanche ) et sur mesure sont disponibles . Pour toutes les autres couleurs , merci de vous référer au programme personnalisé Terminer Match Triad . La peinture que nous utilisons est un émail de qualité supérieure et est appliquée avec une finition de galets lumière.
Comme les couleurs varient selon les écrans, la couleur numérique que vous voyez ici peut être légèrement différente de la couleur réelle du produit.
Features
Compact Flat Design.
Triad AcoustiPerf metal grill available in three designs:
Narrow, Wide, and Frameless.
Enclosure
Fully engineered, Premium MDF enclosure.
Acoustic Suspension.
2-way design.
Finishes
Triad's Basic & Custom Finishes are available for this product. The standard finish for this product is White paint. For any other colors, please refer to Triad's Custom Match Finish program for this product. The paint we use is a top quality enamel and is applied with a light pebble finish.
Since all computer monitors and their colors vary, the digital color you see here will be different from the actual product finish.
Performance Specifications
Recommended Amp Power
50 – 200 watts
Impedance
4 ohms
Sensitivity (db 1watt/1meter)
91
Anechoic Frequency Response
75 Hz – 20 kHz
Tweeter Type
Fabric dome
Tweeter Size
(1) 1″ /25mm
Woofer Type
Paper/fiber blend
Woofer Size
(2) 6-1/2″ /17cm
Détails techniques
Height 66cm
Width 34.3cm
Depth 9.9cm
Hole Cut Out – Height 66.35cm
Hole Cut Out – Width 34.6cm
Frameless Grill Dimensions W: 38.0cm x H: 69.8cm
Narrow Grill Dimensions W: 36.1cm x H: 67.8cm
Wide Grill Dimensions W: 37.6cm x H: 69.4cm
Product Weight 9.9kg
Shipping Weight 11.7kg
NCB Size P