L'enceinte SK2-3300 est un haut-parleur LCR compact à 3 voies de haute performance , conçu avec la même technologie que le très acclamé projet K2 S9900, l'une des enceintes les plus avancées et sophistiquées.

Une chambre de compression à tweeter béryllium de 3 pouces couplée à une trompe ouvrant de 100 ° x 60 ° Bi -Radial® délivre les hautes fréquences avec une dynamique et un réalisme saisissants, tandis qu'un Hyper tweeter ultra- haute fréquence de 1 pouce à chambre de compression avec une membrane en béryllium associé à une trompe ouvrant de 60 ° x 30 ° Bi -Radial.
Deux haut parleur de 25cm Aqua- Plas ™ chacun doté d'un revêtement sur les woofers et de deux bobines enroulé de 3 pouces, les structures du driver néodyme et les cadres en aluminium ajoutent des renfort au service d'une combinaison puissant des trompes HF et UHF pour reproduire la musique et les bandes sonores des films avec la distorsion la plus faible et la plus linéaire possible des fréquences .

La SK2-3300 peut être utilisé soit comme un haut-parleur LCR ou en canal central pour accompagner les enceintes du projet K2 S9900 ou Project Everest DD66000 .
The SK2-3300 is a compact 3-way high-performance LCR loudspeaker built upon the same technology used in the acclaimed Project K2S9900, one of the most advanced and sophisticated loudspeakers in the world today.
A 3-inch beryllium diaphragm compression driver mated to a 100° x 60° Bi-Radial® horn delivers high-frequencies with lifelike dynamics and startling realism while an ultra-high frequency 1-inch beryllium diaphragm compression driver with a 60° x 30° Bi-Radial horn recreates critical air and spaciousness.
Two 10-inch Aqua-Plas™-coated woofers each with dual 3-inch edge-wound voice coils, Neodymium motor structures and cast aluminum frames add serious punch and depth to the already potent combination of HF and UHF horns to reproduce music and movie soundtracks with the lowest distortion and flattest frequency response possible.
The SK2-3300 can be used either as an LCR loudspeaker or as the companion center channel to the Project K2 S9900 or Project Everest DD66000.
Deux woofers de 10 pouces Aqua- Plas revêtus chacun avec deux de 3 pouces bord enroulé voix bobines , néodyme structures automobiles et jettent des cadres en aluminium
3 pouces Beryllium membrane à haute fréquence pilote de compression couplé à une corne 100 ° x 60 ° Sonoglass® Bi -Radial
1 pouce béryllium membrane ultra- haute fréquence pilote de compression couplé à une corne 60 ° x 30 ° SonoGlass Bi -Radial
 Boîtier très embase avec une chicane avant incurvée élimine la coloration induite par armoire
Les entrées de poste de liaison double pour bi- fil ou les connexions bi – amplifié
certification THX® Ultra2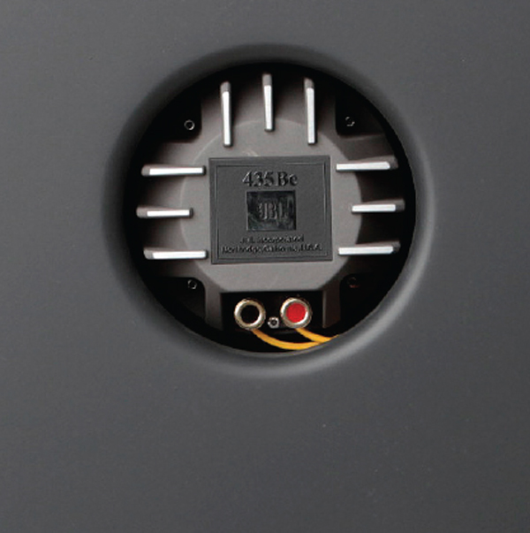 Two 10-inch Aqua-Plas-coated woofers each with dual 3-inch edge-wound voice coils, Neodymium motor structures and cast aluminum frames

3-inch Beryllium diaphragm high-frequency compression driver mated to a 100° x 60° Sonoglass® Bi-Radial horn

1-inch Beryllium diaphragm ultra-high-frequency compression driver mated to a 60° x 30° Sonoglass Bi-Radial horn

Heavily-braced enclosure with a curved front baffle eliminates cabinet-induced coloration

Dual binding post inputs for bi-wire or bi-amplified connections

THX® Ultra2 certification
Détails techniques
Maximum Recommended Amplifier Power Impedance
Sensitivity (2.83V @ 1m)
Frequency Response Ultrahigh-Frequency Driver High-Frequency Driver
Low-Frequency Driver
Dimensions (H x W x D) Weight
Frequency Response –
400 Watts (RMS) 8 Ohms
93dB
50Hz – 50kHz
1″ (25mm) Pure-beryllium compression driver (045Be) with 0.35″-throat Bi-Radial® horn 3-Inch (75mm) 435Be Pure-beryllium compression driver with 1.5″-throat Bi-Radial® horn
Dual 10-inch (255mm) 2251J-2 AquaplasTM-coated, pulp-cone woofers with 4″ edge-wound voice coils and EPDM rubber surrounds, and utilizing Alnico magnets
23″x 25″ x 12"; 587mm x 635mm x 292mm 89 lb (40.3kg) Each