L'horloge McIntosh MCLK12 a été conçue pour les amoureux de la marques aux Vumètres bleus. Leur présence est d'ailleurs l'un des principaux signes distinctifs de ce bel objet, à la face avant en verre noir et aux bords et boutons en aluminium chromé. L'intensité du rétro-éclairage des VUmètres peut être ajusté. L'horloge McIntosh MCLK12 fonctionne sur secteur mais est équipées d'une batterie afin de conserver ses réglages en cas de coupure de courant.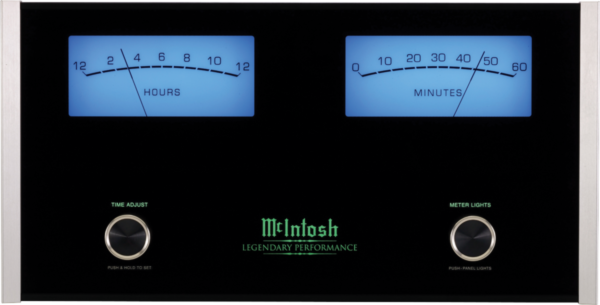 The McIntosh MCLK12 mantle clock is a celebration of time while being a tribute to classic McIntosh design. Constructed with the signature McIntosh blue watt meters, the MCLK12 demonstrates the same easy to read visual interface. Blue meter lighting may be switched on or off from the front panel, or by other McIntosh components, depending on the viewing conditions. Faceplate is the same width as other McIntosh equipment, allowing for rack placement; also wall or shelf mountable. The left meter measures hours while the right measures minutes. The hour and minute hands cover a twelve and sixty minute arc respectively on the MCLK12 along with Power Output Meters on compatible McIntosh Power Amplifiers. Both hands 'fly-back' in a retrograde fashion when they reach the end of their scale. The MCLK12 is the ultimate fun way to monitor the passing of time. Battery backup keeps time during power outages.
Note : le visuel de la face arrière de l'appareil présente des prises américaines, mais c'est bien la version européenne qui est proposée.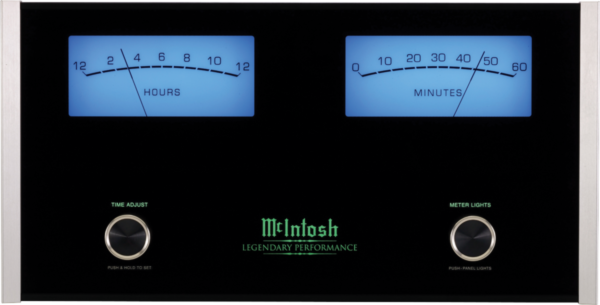 Horloge
Affichage heures et minutes
Quartz de précision à température régulée
VUmètres rétro-éclairés
Batterie
Connectique
1x connecteur de contrôle mini-jack (pour afficher le volume de tout ampli ou préampli McIntosh compatible)
Détails techniques
Dimensions (lxhxp) : 444 x 225 x 52 mm
Poids : 4,5 kg
Product Literature : McClock+brochure