Ce chef-d'œuvre, phare de la marque, a été conçu pour les amoureux de son. Combinant une reproduction du son innovante et une esthétique finement travaillée, le modèle D est le premier et le meilleur système en son genre.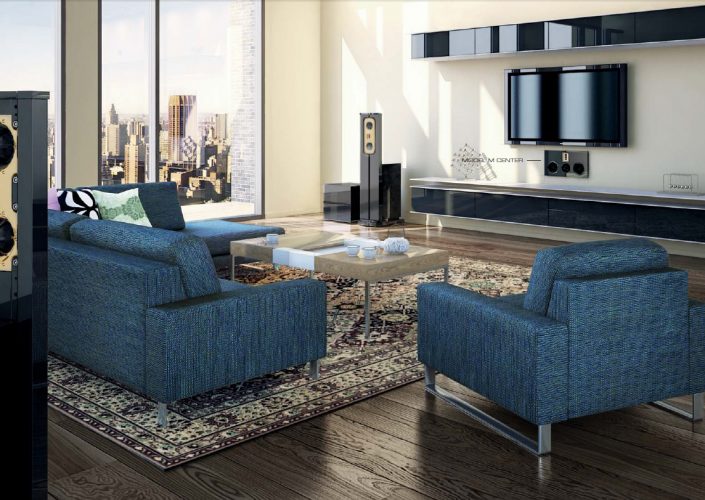 INTIMATE AND COMPELLING
The Model C offers a more intimate—but no less awe-inspiring—sound experience than the Model D. The formula is simple: take the legendary Model D with its floor-standing dipole speakers, then scale down the footprint and add best-in-breed boundary woofers. The result is an attention-grabbing statement system that sets a new standard for full-bodied bass reproduction.
DIPOLE SPEAKER
The Model C's compact, floor-standing dipole design emits equal, natural sound from both sides of the cabinet—forward and backward. Thus it produces sound that interacts with the room much like a live musical instrument, creating audio that can't be compared and a statement that can't be ignored.
FINISHING TOUCHES
The Model C series is a commanding visual presence in any room. Model C speakers and boundary woofers are available in an exquisite range of classic and custom finishes, including the same signature black lacquer finish found on Steinway & Sons pianos. Wood finishes and high-gloss colored lacquers are options to fit any room décor. All finish selections are offered with a choice of gold or chrome accents.
ROOMPERFECT™
RoomPerfect™ is the most innovative room adaptation technology available, and it holds 55 patents for audio innovations. The concept is pure genius: rather than adapting the room to the sound system with expensive acoustic treatments, Steinway Lyngdorf's RoomPerfect™ adapts the sound system to the room through a measuring and assessment technology that optimizes sound performance for a specific room. Put simply, RoomPerfect™ will "see" the listening environment and customize sound performance to suit.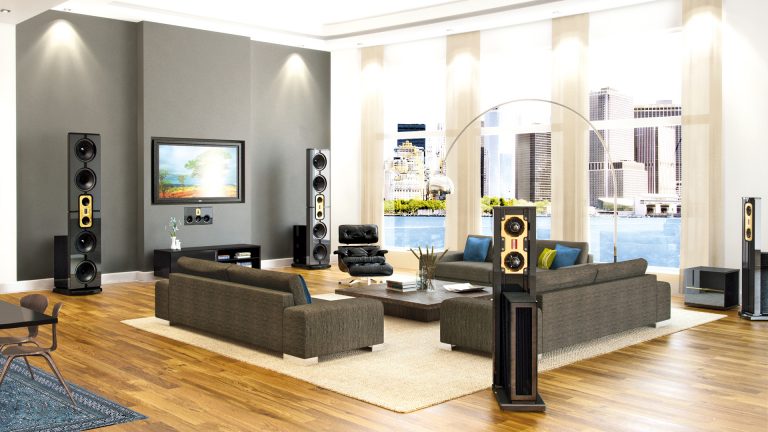 FULLY DIGITAL SYSTEM
When clarity is at stake, there is no substitute for a fully digital system. The Model C speaker has a built-in fully digital amplifier to eliminate the problem of sound deterioration resulting from a broken signal path in analog-to-digital conversions. The amplifier drives both the Model C speaker and its accompanying boundary woofers to produce an exquisite listening experience—the purest and most true-to-life you've ever heard.
INTEGRATED SYSTEM APPROACH
With the Model C, you choose the configuration. Enhance your room with the iconic head unit. Or, for a stunning stereo setup, combine the Model C speakers with the SP-1 stereo processor. Alternatively, the Model C speakers can be used in a surround sound system when matched with the Model P200 surround sound processor. As with any Steinway Lyngdorf system, modularity makes the difference.
Détails techniques
Description : Floor-standing dipole speaker
Frequency response : 250 – 22k Hz
Max SPL @ 1m : 117 dB
Amplification needed : Built-in
Input : Digital Link (CAT 5e based)
Dimensions (H x W x D) 132.7 x 30.0 x 54.0 cm/40.9 x 17.3 x 15.6 in
Weight/Poids : 64.8 kg / 142.9 Ibs
Finish High-gloss black with gold or chrome accents.
Custom colors and wood finishes available.