Caisson De Basses Encastrable Hifi / Cinéma
Triad InWall Bronze/4 SlimSub
The Most beautiful Sound You May Never See
Tweet
Jamais Triad n'avait offert, à un prix si raisonnable, au problème de l'intégration d'enceintes surround discrètes dans un home cinéma. La InWall Bronze/4 Surround a été conçue pour fournir un champ surround enveloppant lorsqu'elle est utilisée avec les meilleurs ampli A&V, que les sources soient analogiques ou numériques.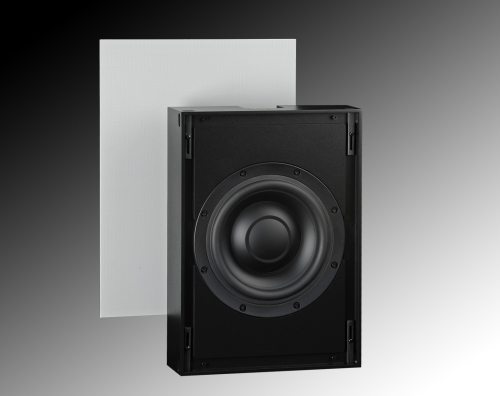 Never before has Triad offered such a reasonably priced unique solution to the problem of integrating surround sound invisibly into a home theater environment. The InWall Bronze/4 Surround was designed to provide an enveloping surround field when used with better A/V receivers in moderately sized rooms, with both analog and digital sources. Despite it's moderate price, the InWall Bronze/4 Surround features a premium flush Acoustiperf grill that can be custom paint matched to your decor by Triad.
Due to it's shallow profile, it can be mounted into a standard 4″ wall depth, or into a ceiling. The InWall Bronze/4 Surround comes as a dipole, but as it is built-to-order, you can specify a bipole configuration if you prefer. When used with Bronze LCRs and Triad Subs, the InWall Bronze/4 Surround completes the perfect home theater and music system for the enthusiast on a budget.
Caractéristiques
Design compact.
Triad AcoustiPerf grill disponible en trois modèles en métal :
Étroit, large, et Frameless .
Subwoofer est livré en standard avec un pilote de 4 ohms. Ce produit peut être commandé spécialement avec un pilote 8 ohm, donc deux (2) subwoofers pour un seul amplificateur .
Amplificateur : Rack ( 1 montage dans le rack ou sur le plateau ) pouvant être monté de 300 watts RackAmp .
• Compact et efficace – Seulement 10 « de profondeur
• EnergyStar conforme et économe en énergie .
• Faible génération de chaleur .
• NRTL certifié UL, CE, CTick , FCC, RoHS et ½ Watt EnergyStar conforme
• Trois modes sélectionnables par l'utilisateur produit préréglés . ( Mini , Bronze, Flex ) .
• entrée de niveau de haut-parleur
• volume et de croisement des contrôles
• Sortie de niveau de ligne
• Plusieurs options de contrôle:
– 5V – 20V Trigger
– Allumé éteint
– Auto – sens
Enceinte
Enceinte en MDF Premium
Suspension acoustique .
Finitions
Les finitions standard (peinture blanche) et sur mesure sont disponibles. Pour toutes les autres couleurs, merci de vous référer au programme personnalisé Terminer Match Triad. La peinture que nous utilisons est un émail de qualité supérieure appliqué avec une finition de galets lumière.
Puisque tous les écrans d'ordinateur varient , la couleur numérique que vous voyez ici peut être différente de la couleur réelle du produit.
Features
Compact Design.
Triad AcoustiPerf metal grill available in three designs:
Narrow, Wide, and Frameless.
Subwoofer ships standard with a 4 ohm driver. This product can be special order with a 8 ohm driver so two (2) subwoofers can be run off a single amplifier.
Amplifier: Rack (1 space- in the rack or on the shelf) mountable 300 watt RackAmp.
• Compact & efficient – Only 10" deep; Rack friendly (ears included).
• EnergyStar compliant & energy efficient.
• Low heat generation.
• NRTL certified to UL, CE, Ctick, FCC, RoHS, and ½ Watt EnergyStar compliant
• Three user selectable Product Preset Modes. (Mini, Bronze, Flex).
• Speaker level input
• Volume and crossover controls
• Line level output
• Multiple Control Options:
– 5V – 20V Trigger
– On/Off
– Auto-sense
Enclosure
Fully engineered, Premium MDF enclosure.
Acoustic Suspension.
Finishes
Triad's Basic & Custom Finishes are available for this product. The standard finish for this product is White paint. For any other colors, please refer to Triad's Custom Match Finish program for this product. The paint we use is a top quality enamel and is applied with a light pebble finish.
Since all computer monitors and their colors vary, the digital color you see here will be different from the actual product finish.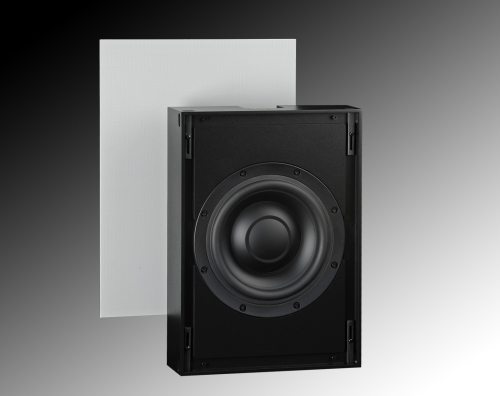 Performance Specifications
Anechoic Frequency Response
35 Hz – 200 Hz
F3 -3db
20
Woofer Type
Proprietary aluminum cone woofer
Woofer Size
(1) 10″ 25cm
Sub Amp Type
Class A/B RackAmp
Sub Amp Power
300 watts
Détails techniques
Height 48.3cm
Width 34.3cm
Depth 9.9cm
Hole Cut Out – Height 48.57cm
Hole Cut Out – Width 34.6cm
Frameless Grill Dimensions W: 38.0cm x H: 52.0cm
Narrow Grill Dimensions W: 36.1cm x H: 50.0cm
Wide Grill Dimensions W: 37.6cm x H: 51.6cm
Product Weight 11.1kg
Shipping Weight 15.8kg
NCB Size V