Enceinte Encastrable Hifi / Cinéma
Triad InWall Mini/4 LCR
The Most beautiful Sound You May Never See
Tweet
La version inwall de la Triad Mini LCR a été conçue pour les petites salles de cinéma où le meilleur son est souhaité avec des hauts-parleurs discrets. Comme la Inwall Mini LCR bénéficie du design entièrement clos des versions InRoom et InCeiling, sa performance est presque identique, avec la discrétion en plus.
Pour mieux se camoufler, la grille Acoustiperf se place à fleur du mur. Elle est proposée dans tous les coloris, ainsi qu'en peinture personnalisée.
Utilisez l'un des nombreux Triad surrounds et Subs avec la InWall Mini / 4 LCR , comme les versions inwall , InCeiling , inroom et onwall , pour créer un magnifique système personnalisé.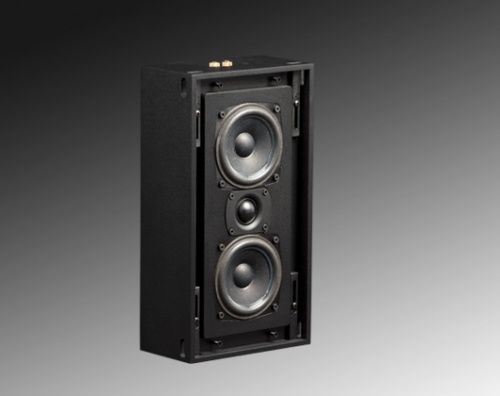 Triad's inwall version of the Mini LCR was designed for small home theater venues where the best sound is desired, but speakers must be discretely placed. Because we use the same type of fully-engineered enclosure design as the InRoom and InCeiling versions of the Mini LCR, performance is nearly identical, but without having a speaker intrude into the room.
To make the attractive flush Acoustiperf grill disappear even more, custom paint matching is offered with this and all Triad LCRs. We can offer this service because our speakers are made-to-order in our modern facility in Oregon. Use any of many Triad Surrounds and Subs with the InWall Mini/4 LCR, including inwall, inceiling, inroom, and onwall versions, to create a superb custom home theater system in a den, bedroom, or office.
Caractéristiques
Compact Flat Grill design .
Triad AcoustiPerf grill disponible en trois modèles différents en métal : Étroit, large, Frameless .
Enceinte
Enceinte en Premium MDF
Suspension acoustique .
conception 2 voies .
Finitions
Les finitions standard ( Peinture blanche) et sur mesure sont disponibles. Pour toutes les autres couleurs , se référer au programme personnalisé Paint Match Triad. La peinture que nous utilisons est un émail de qualité supérieure appliqué avec une finition légèrement marbrée.
Puisque tous les écrans d'ordinateur varient, la couleur numérique que vous voyez ici peut être différente de la couleur réelle du produit.
Features
Compact Flat Grill Design.
Triad AcoustiPerf metal grill available in three designs:
Narrow, Wide, Frameless.
Enclosure
Fully engineered, Premium MDF enclosure.
Acoustic Suspension.
2-way design.
Finishes
Triad's Basic & Custom Finishes are available for this product. The standard finish for this product is White paint. For any other colors, please refer to Triad's Custom Match Finish program for this product. The paint we use is a top quality enamel and is applied with a light pebble finish.
Since all computer monitors and their colors vary, the digital color you see here will be different from the actual product finish.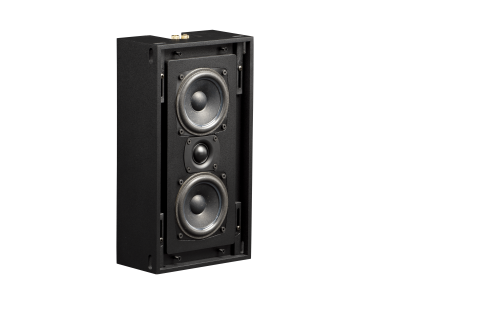 Performance Specifications
Recommended Amp Power
25 – 150 watts
Impedance
4 ohms
Sensitivity (db 1watt/1meter)
89
Anechoic Frequency Response
95 Hz – 20 kHz
Tweeter Type
Fabric dome
Tweeter Size
(1) 1″ /25mm
Woofer Type
Paper/fiber blend
Woofer Size
(2) 4″ /11cm
Détails techniques
Height 34.3cm
Width 18.3cm
Depth 9.9cm
Hole Cut Out – Height 34.6cm
Hole Cut Out – Width 18.56cm
Frameless Grill Dimensions W: 22cm x H: 38cm
Narrow Grill Dimensions W: 20cm x H: 36.1cm
Wide Grill Dimensions W: 21.6cm x H: 37.6cm
Product Weight 3.5kg
Shipping Weight 5.4kg
NCB Size J