Caisson De Basses Encastrable Hifi / Cinéma
Triad InWall Bronze/6 Sub
The Most beautiful Sound You May Never See
Tweet
Dans cette toute nouvelle gamme de subwoofer, nous avons maintenu la même excellente longue portée 10 " driver et son haut parleur , mais commuté vers le nouveau RackAmp 300 qui fournit près de 50% de puissance en plus que son prédécesseur. Le nouvel ampli fournit un " plug- and-play » simple et un EZ set-up.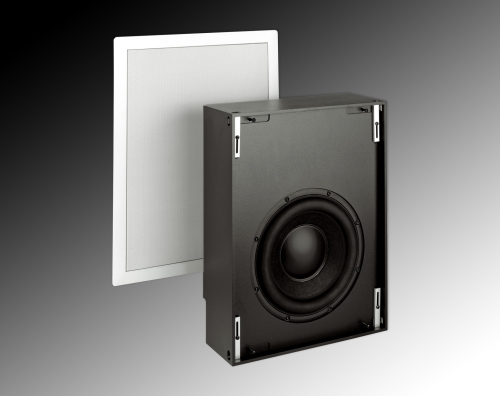 The workhorse of Triad's custom subwoofer line has been dramatically improved. In an otherwise all-new subwoofer lineup, we have maintained the same excellent long-throw 10″ driver and enclosure, but switched to the new RackAmp 300 which delivers nearly 50% more power than its predecessor for even more output and headroom than before. The new amp provides simple"plug-and-play," and EZ set-up. You can have great performance right out of the box in nearly any room.
Unlike most inwall subwoofers, the InWall Bronze/ Sub is a serious subwoofer. It is designed to fit into a 6″-deep stud space, and it uses a handsome, flush Acoustiperf grill. And we build all Triad speakers to order, and offer custom paint matching to the paint sample or paint number that you supply. The InWall Bronze/6 Sub may be used in multiples, each with its own amplifier, in home theater applications. Or, a single Bronze/6 may be used for a den, bedroom, guest room, family room, or office. At low listening levels or for background, an InWall Bronze/6 Sub adds fullness and warmth, and at higher levels, it adds dynamics and weight. Other versions include the InCeiling Bronze/10 Sub and the InWall Bronze/4 SlimSub.
Caractéristiques
Design compact.
Triad AcoustiPerf grill disponible en trois modèles en métal :
Étroit, large, et Frameless .
Subwoofer est livré en standard avec un pilote de 4 ohms. Ce produit peut être commandé spécialement avec un pilote 8 ohm donc deux  subwoofers pour un seul amplificateur .
Amplificateur : Rack ( 1 montage dans le rack ou sur le plateau ) pouvant être monté de 300 watts RackAmp .
• Compact et efficace – Seulement 10 « de profondeur ; Rack amical ( oreilles comprises) .
• EnergyStar conforme et économe en énergie .
• Faible génération de chaleur .
• NRTL certifié UL, CE, CTick , FCC, RoHS et ½ Watt EnergyStar conforme
• Trois modes sélectionnables par l'utilisateur produit préréglées . ( Mini , Bronze, Flex ) .
• entrée de niveau de haut-parleur
• volume et croisement des contrôles
• Sortie de niveau de ligne
• Plusieurs options de contrôle:
– 5V – 20V Trigger
– Allumé éteint
– Auto – sens
Enceinte
Enceinte en Premium MDF.
Suspension acoustique .
Finitions
Les finitions standards et sur mesure sont disponibles pour ce produit . La finition standard pour ce produit est: peinture blanche . Pour toutes les autres couleurs , merci de vous référer au programme personnalisé Terminer Match Triad. La peinture que nous utilisons est un émail de qualité supérieure appliqué avec une finition de galets lumière.
Puisque tous les écrans d'ordinateur  varient , la couleur numérique que vous voyez ici peut être différente de la couleur réelle du produit.
Features
Compact Design.
Triad AcoustiPerf metal grill available in three designs:
Narrow, Wide, and Frameless.
Subwoofer ships standard with a 4 ohm driver. This product can be special order with a 8 ohm driver so two (2) subwoofers can be run off a single amplifier.
Amplifier: Rack (1 space- in the rack or on the shelf) mountable 300 watt RackAmp.
• Compact & efficient – Only 10" deep; Rack friendly (ears included).
• EnergyStar compliant & energy efficient.
• Low heat generation.
• NRTL certified to UL, CE, Ctick, FCC, RoHS, and ½ Watt EnergyStar compliant
• Three user selectable Product Preset Modes. (Mini, Bronze, Flex).
• Speaker level input
• Volume and crossover controls
• Line level output
• Multiple Control Options:
– 5V – 20V Trigger
– On/Off
– Auto-sense
Enclosure
Fully engineered, Premium MDF enclosure.
Acoustic Suspension.
Finishes
Triad's Basic & Custom Finishes are available for this product. The standard finish for this product is White paint. For any other colors, please refer to Triad's Custom Match Finish program for this product. The paint we use is a top quality enamel and is applied with a light pebble finish.
Since all computer monitors and their colors vary, the digital color you see here will be different from the actual product finish.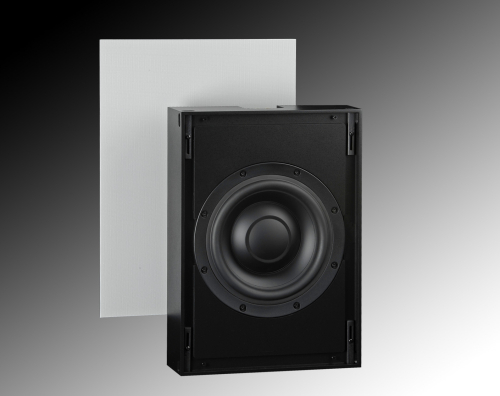 Performance Specifications
Anechoic Frequency Response
20 Hz – 200 Hz
F3 -3db
20 Hz
Woofer Type
Long-excursion coated paper
Woofer Size
(1) 10″ 25cm
Sub Amp Type
Class A/B RackAmp
Sub Amp Power
300 watts
Détails techniques
Height 48.3cm
Width 34.3cm
Depth 15.2cm
Hole Cut Out – Height 48.57cm
Hole Cut Out – Width 34.6cm
Frameless Grill Dimensions W: 38.0cm x H: 52.0cm
Narrow Grill Dimensions W: 36.1cm x H: 50.0cm
Wide Grill Dimensions W: 37.6cm x H: 51.6cm
Product Weight 12.7kg
Shipping Weight 14.5kg
NCB Size V